On the Beat With Peter Landi of Marco With Love: Keeping it Simple and Sounding Great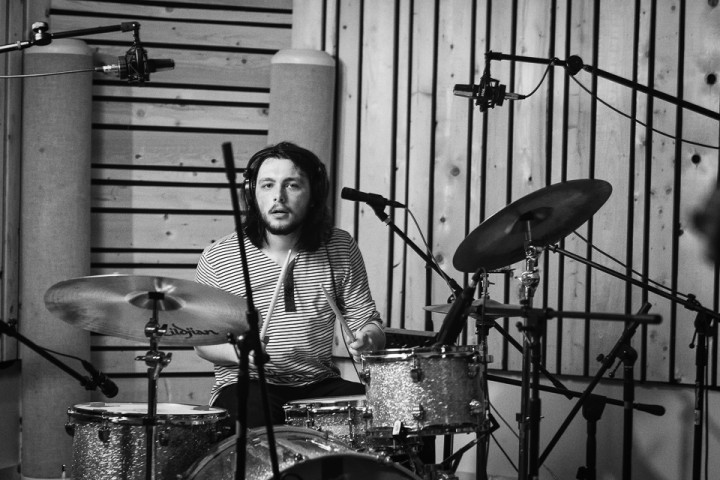 Hello MD readers! My name is Peter Landi and I'm the drummer for Marco With Love. This is my second guest appearance for the Modern Drummer website and I am excited to tell you about my setup.
My setup is pretty straightforward. I like to keep it simple and sounding great! I have been playing Zildjian and Remo products since the early days of my drumming and have never thought about using anything else. Need I say more? Another mainstay in my setup has been my hardware, particularly my DW 5000 single pedal. I have been playing drums for sixteen years and have only owned two of them. They are indestructible! I'm a big fan of DW's 9000 series of stands, as well. For sticks, I recently made the switch over to Vater and could not be happier. The Los Angeles 5As are my stick of choice.
Okay, time to talk about my drums. I first heard about C&C almost ten years ago, and have been obsessed with their drums ever since. My kit is made up of maple shells (8-ply kick, 6-ply toms), champagne sparkle wrap finish, and mini tube lugs. I have had these drums since 2007 and have recorded and toured with them in almost every band I have been with. I like to keep the tuning of the top and bottom heads at the same pitch and leave them pretty open, only using a Moongel here and there if needed.
My snare is my favorite part of my kit. It is extremely versatile and loud as hell (my band members will be the first to tell you that). For MWL, I like to tune it at a lower pitch to get more of a Stan Lynch thud, or as Marco likes to call it in the studio, the "Petty Snare." C&C is a great company and I am very fortunate to be a part of their artist roster. Advertisement
Thank you for reading my post, and be sure to check out Marco With Love's new EP to hear my kit in action.
C&C Custom Drums
16×24 kick
8×12 rack
14×14, 14×16 floor toms
5.5×14 snare
Cymbals
Zildjian A Series
14″ Mastersound hi-hats
18″ Medium Thin crash
21″ Sweet ride
Heads
Kick: Remo Coated Powerstroke 3 (batter) Ebony Powerstroke 3 (reso)
Toms: Coated Emperor (batter) Clear Ambassador (reso)
Snare: Coated Controlled Sound X (batter) Ambassador Hazy Side (reso)
Sticks
Vater: Los Angeles 5A (wood tip)
Hardware
DW and Pacific

For more, visit www.facebook.com/marcowithlove and www.twitter.com/marcowithlove.
Watch the band in the studio here: