On the Beat With Brandon Olander of the Blue Devils Drum and Bugle Corps: Worth the Hard Work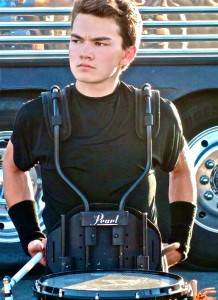 Hi, I'm Brandon Olander and a snare drummer for the Blue Devils Drum and Bugle Corps. My passion for drum corps started when I was ten and happened upon a YouTube video of the BD drumline. I begged my parents for sticks and a drum pad, and soon began practicing for five or six hours each day, teaching myself rudiments and learning how to follow along to drum corps snarelines. I attended my first BD audition at twelve, dreaming that one day I could become a member. This dream came true when, at sixteen, I earned a contract to the Blue Devils.
I was in love with drum corps from the moment I found out about it, but nothing could have prepared me for what life on tour with an ensemble is like. Corps rehearse for ten to twelve hours a day in the summer heat, repeating, chunking, and attempting to perfect only twelve minutes of marching and music that comprise our production for the season. We do this every day for three months, while traveling and living in coach buses, sleeping on gym floors, and performing for thousands of people each night.
I was incredibly fortunate in my first two years with the Blue Devils to win two Drum Corps International World Championships. This past season, the drumline also won the Fred Sanford Award for High Percussion, and I won the DCI Performers Showcase Snare Drum Solo competition with my solo, "Backseat Freestyle." After having practiced the solo for months leading up to the competition, I did not expect to drop a stick (or two) during my performance. Because of the hours I had spent practicing, I almost instinctively recovered, ignoring how much I really wanted to hide behind my drum at that moment. It wasn't my best performance, but I was happy that I didn't give up and finished strong. Advertisement
I definitely could not have accomplished any of these things without the inspiration of countless incredible drummers before me. Our percussion director, Scott Johnson, encouraged me from a young age to follow my dream of being a Blue Devil. I was also inspired by Chad Sexton, the drummer for 311, whose roots trace back to drum corps. Rudimental drumming can only better your skills on drumset; I am always incorporating what I learn in drum corps to my rock group, Warpstar.
Drum corps is undoubtedly the most difficult thing I have done in my life, and there are many times throughout the season when I question why I ever chose to do this. However, any person who has participated in this can tell you how rewarding of an experience it is, and that, in the end, the endless memories and friendships you have made, were all worth the hard work.
I try to apply everything I have learned from this activity to all other aspects of my life. No matter how trying an obstacle may appear, anything is possible, as long as you never give up.