News, News and Events
News: Drum Center of Portsmouth Supplies Portsmouth Music and Arts Center with Gretsch Drumset
Drum Center of Portsmouth has shown its commitment to music education by supplying Portsmouth Music and Arts Center (PMAC) with a top-of-the-line Gretsch USA Custom drumset reserved for performances. Furthermore, DCP has become the official sponsor of PMAC's Rock Camp.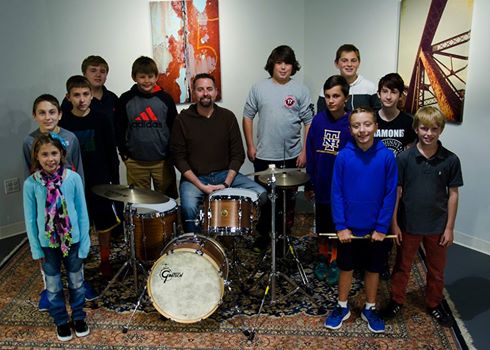 "We've been outfitting PMAC with their drums since we opened," says Shane Kinney, owner of Drum Center of Portsmouth. The sets they have are great for lessons, but I wanted them to have a set that was as serious as they and their students are. Gretsch drums have been recognized as some of the best sounding drums for over one hundred years and I'm thrilled to do this. And being a rock drummer myself, funding the rock camp is equally exciting. Learning music is an opportunity I'd like to see available to everyone, and PMAC is the best at providing a quality learning environment."
Portsmouth Music and Arts Center CEO Russ Grazier says, "One of the greatest challenges for community music schools is having high-quality instruments for student rehearsals and performances. The generosity of Drum Center of Portsmouth has been overwhelming. Performing on a top-tier professional Gretsch drumset brings a young student's playing to a new level. It's inspiring."
In its sixth year of business, Drum Center of Portsmouth has emerged as a leader in the drum retail landscape, having been recognized as one of the top one hundred dealers by the National Association of Music Merchants (NAMM) three years in a row.