On the Beat With Frankie Valli's Craig Pilo: Getting and Keeping the Gig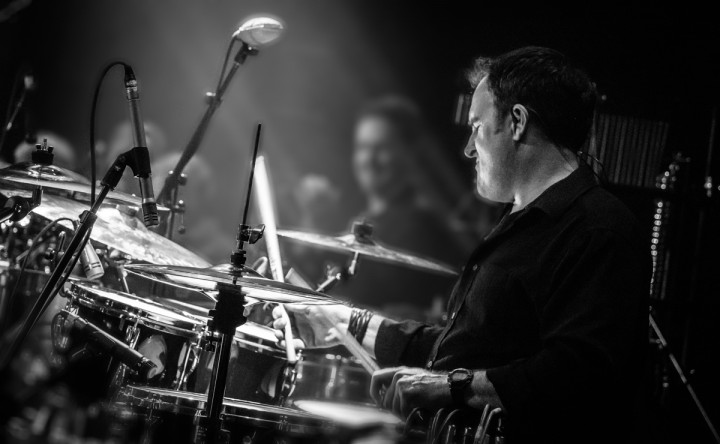 Hi, it's been a few years since I checked in with Modern Drummer, so it's really great to be back and punch in with fellow drummers and like-minded individuals to share a few ideas!
I teach part time at the California College of Music in Pasadena, CA. You can visit www.craigpilo.com and sign up for my monthly newsletter that includes tour dates and teaching schedule each month. I also have three solo CDs available at www.cdbaby.com/Artist/CraigPilo.
I've been fortunate to meet a lot of people during my travels and to hang out and play with a lot of really great musicians. I get a lot of emails and questions and I thought this might be a good forum to share some of my answers here at Modern Drummer.
What's it like playing with Frankie Valli? Honestly, I could write a book about my last ten years in the band, but I'll try to limit the answer to the drumming side of things. First and foremost, Frankie has a work ethic that is unparalleled. I have never seen anyone more concerned with showing up early to sound check, expecting everything to be dialed-in to perfection, and then making last minute improvements that we are expected to implement immediately for a show that usually starts within a couple of hours. Nobody works harder than Frankie Valli. I'm forty-three and I have a hard time keeping up with him, and he's eighty-one! Advertisement
That being said, I do have a few ideas to share that may help you keep a job for ten years, because it isn't always easy. First and foremost, if you are a sideman you are being hired to play the drums. Unless your name is on the marquis or you are an equal owner in the band, try to be the best sideman out there. You have to find a way to play what the artist wants, make it groove, and make it sound good. You may be expected to bring something to the table with your drumming, you may be expected to play the parts from the record, or you may be expected to do something different altogether.
Be prepared for whatever comes your way. I have it pretty good with Frankie, but I have been in other bands where communication was an issue, and it was difficult to decipher exactly what the artist wanted. The best advice I can offer in those situations is be prepared to offer a few alternatives on the drums. Be able to play the same song a few different ways with a few different feels and fills. A word to the wise—if you only learn a song at one tempo, one dynamic level, with one particular feel and pre-rehearsed fills, you aren't really prepared.
How do you get a big touring gig? This is probably the question I get most often from other musicians, and there is no simple answer. How does anyone get any gig? It's a combination of being prepared and dumb luck happening at the exact same time. When I first moved to Los Angeles from Texas in 1996, I took every job that came my way and worked my way up the ranks like everyone else. I did a lot of unglamorous gigs (Go to YouTube and Google "Band at the Wedding"). Eventually, I started doing some regional touring and then some national/international touring (Maynard Ferguson, Edgar Winter, the Red Elvises, Pat Boone, Player, to name a few). If you work hard, show up on time, and can deliver a solid drumming performance, eventually your number will come up and you will get a chance to be part of something worthwhile. It might not be the gig you wanted or expected, but I'm convinced something rewarding will come your way. Advertisement
At the end of the day, if you focus on being good at what you do, that's all that really matters. Gigs come and go, but honing your craft and taking pride in your performance is something that nobody can take away from you. Thanks for reading!
Photo by Nick D'Amico
Check out the following videos of Craig below:
Instructor spotlight video:

Drum Solo:

Frankie Valli and the Four Seasons performing at the US Capitol Fourth of July 2014 concert: