News: SJC Drums Sponsor's Alternative Press Tour
SJC is hitting the road as an official sponsor of the Alternative Press Tour, featuring Mayday Parade, Real Friends, This Wild Life, and As It Is.
SJC's Mike and Ricky will be following the tour in a bus, setting up a merchandise booth inside each venue with apparel for sale, exclusive Garage Band items, and the company's series drums for sale out of the trailer. They will present lectures at schools throughout the tour, and setting up some pop-up shops in different cities.
Fill out the following form if SJC Drums is visiting your city and they'll arrange a time and place to meet up: https://goo.gl/hmgI2R.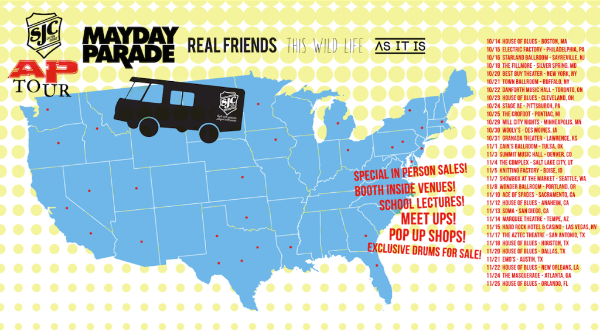 Dates
Wed Oct 14               House of Blues                     Boston, MA
Thu Oct 15                Electric Factory                    Philadelphia, PA
Fri Oct 16                  Starland Ballroom               Sayreville, NJ
Sat Oct 17                  College Street Music Hall   New Haven, CT
Sun Oct 18                The Fillmore  Silver             Spring, MD
Tue Oct 20                Best Buy Theater                  New York, NY
Wed Oct 21               The Town Ballroom             Buffalo, NY
Thu Oct 22                Danforth Music Hall           Toronto, Ontario
Fri Oct 23                  House of Blues                     Cleveland, OH
Sat Oct 24                 Stage AE                                 Pittsburgh, PA
Sun Oct 25                The Crofoot Ballroom          Pontiac, MI
Tue Oct 27                Concord Music Hall              Chicago, IL
Thu Oct 29                Mill City Nights                     Minneapolis, MN
Fri Oct 30                  Wooly's                                   Des Moines, IA
Sat Oct 31                  Granada Theater                   Lawrence, KS
Sun Nov 1                  Cain's Ballroom                     Tulsa, OK
Tue Nov 3                  The Summit Music Hall      Denver, CO
Wed Nov 4                The Complex                          Salt Lake City, UT
Thu Nov 5                  Knitting Factory                   Boise, ID
Sat Nov 7                   The Showbox                         Seattle, WA
Sun Nov 8                  Wonder Ballroom                Portland, OR
Tue Nov 10                Ace of Spades                       Sacramento, CA
Thu Nov 12                House of Blues                    Anaheim, CA
Fri Nov 13                  Soma                                      San Diego, CA
Sat Nov 14                 The Marquee Theater         Tempe, AZ
Sun Nov 15               Hard Rock Live                    Las Vegas, NV
Tue Nov 17               Aztec Theatre                       San Antonio, TX
Wed Nov 18              House of Blues                    Houston, TX
Fri Nov 20                 House of Blues                    Dallas, TX
Sat Nov 21                 Emo's                                    Austin, TX
Sun Nov 22               House of Blues                    New Orleans, LA
Tue Nov 24               The Masquerade                 Atlanta, GA
Wed Nov 25             House of Blues                    Lake Buena Vista, FL