News: KoSA Cuba Camp and Festival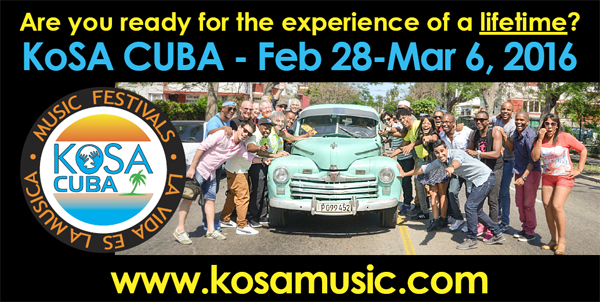 KoSA Music will present the KoSA Cuba Workshop and Fiesta del Tambor (Havana Rhythm and Dance Festival) in Havana February 28–March 6, 2016. US legal travel is possible and university credits are available.
The KoSA Cuba Workshop is a one-week immersion of Cuban rhythms, music, and culture. Daily classes are given on conga, bongo, timbales, drumset and other instruments by some of Cuba's top artists. All instruments are supplied on site. Included in the daily schedule are sessions by Cuban ethnomusicologists, visits to museums, religious ceremonies, local interaction with Cuban musicians, and nightly concerts which feature artists such as Chucho Valdes, Klimax, Los Papines, Los Munequitos de Matanzas, and many more.
KoSA Cuba faculty includes renowned artists Giraldo Piloto (Klimax), Yaroldy Abreu (Chucho Valdes), Adel Gonzales (Afro-Cuban All-Stars), Amadito Valdez (Buena Vista Social Club), Oliver Valdes (Sylvio Rodriguez), Rodney Barreto ( Chucho Valdes), Enrique Pla (Irakere), Panga, and others. Advertisement
Contact Aldo Mazza, director, at 1-800-541-8401 or 514-482-5554 for more information, or register at www.kosamusic.com.