On the Beat With Xavier Muriel of Buckcherry: Drawing Inspiration and Finding Your Niche
Hey Modern Drummer, what's happening? My name is Xavier Muriel, and I play drums for Buckcherry. I'm honored to be a part of the magazine that I've been buying since I picked up a pair of sticks as a kid. It was a thrill to be on the cover for the November 2008 issue.
I've been in Buckcherry since 2005 and have had the great pleasure of opening up for and meeting some of the guys that I cut my teeth to, so long ago. We're releasing our newest record on August 21, and hit the road to do what we do best. This is my fifth record with the band—it hardly seems like ten years has come and gone—and man, what a ride.
There's nothing like laying down a pocket and watching people who otherwise may have had a bad day come to life. I wouldn't trade it for the world. Drawing from most of my heroes, I try to do what's best for the song and put my ego in the back seat. After all, it all starts with the song, and if you can wrap your head around that, finding and keeping a gig will be a lot easier, trust me on this one. Advertisement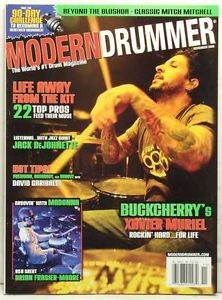 I never wanted to be the best drummer in the world, I just wanted to do what my idols did for me; make me bop my head, dance, and find an escape that nothing else came close to. For me keeping it simple is always the best choice, there's so many forms of music out there now that it's hard to keep the lines from blurring.
I truly believe that if you find your niche and are happy doing it, then it can't be wrong. All my best and happy drumming! See you on the road.
For tour dates and more, visit buckcherry.com.
Watch the video for "The Madness" from Buckcherry's forthcoming album, Rock 'n Roll, out August 21, 2015 here: