News: Phantogram Drummer Chris Carhart to Teach at NYC's "Bang! The Drum School???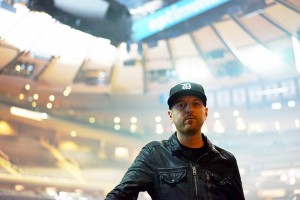 "Bang! The Drum School" has announced that Chris Carhart, the drummer for Phantogram, will be teaching as part of the school's new artists-in-residence program. The new program is meant to bring the teaching expertise of internationally recognized drummers to the lesson curriculum offered at Bang's NYC studios.
"Chris Carhart is a fantastic drummer," says Bang's founder, drummer Mark Feldman. "He plays with great feel, emotion, and precision. When I first met Chris, I was struck by his warmth, friendliness, and passion for drumming. Here is someone who is playing with one of the world's biggest bands; he could be resting when he's not on the road. But not Chris; he is driven to teach and spread the gospel of drumming when he's not touring. That's the kind of passion about drumming that aligns with the spirit of Bang! The Drum School. I am very excited that he is going to be a part of the artists-in-residence program."
Playing with Phantogram, one of the world's leading bands that combine pop, rock, and electronic music, Chris has a deep knowledge of many new drumming skills that must be mastered in today's technology-heavy music scene. For example, Chris can share his approaches to mixing programming and sampling with live acoustic drums or learning to play with sequencers. In addition, Chris is experienced with teaching children and beginners. Advertisement
Chris Carhart will be available immediately through the end of October.
For more information about studying with Chris Carhart or about the school itself, contact Bang! The Drum School at www.bangthedrumschool.com.