On the Beat With Educator Dave Black: You Gotta Know When to Hold 'Em, Know When to…Roll 'Em
Hi everyone! I'm Dave Black, vice president and editor-in-chief with Alfred Music. I'd like to share a fun way of learning with you. While not quite an accurate telling of the famed Kenny Rogers lyric, the sentiment is correct—as a drummer, it is important to have a good understanding of the basic rudiments.
For many drummers, the thought of working through rudimental studies isn't exactly at the top of the list of fun activities. This is where Alfred Music's International Drum Rudiments playing cards come in handy. Turn that game of solitaire into a learning exercise, or add a fun twist to poker night with your drummer friends.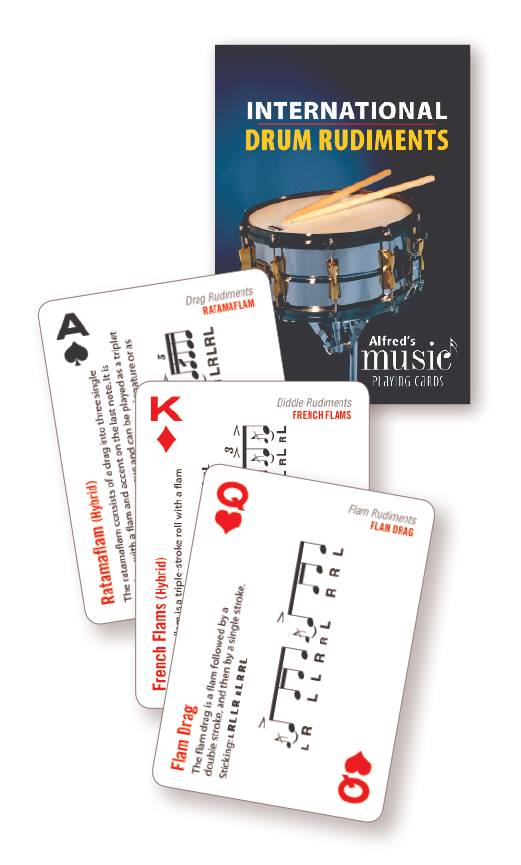 As with regular playing cards, there are four suits in the deck. Each suit represents a different rudimental family: roll rudiments, diddle rudiments, flam rudiments, and drag rudiments. Four jokers are included as well, each containing a brief history of the rudiments and how to practice them. Learn a bit about where rudiments come from while you gamble your last gig earnings away. You may end up poor, but you'll be rich with knowledge. Advertisement
Rudiments that are part of the original standard twenty-six American rudiments are marked with an asterisk. Fourteen drum corps, orchestral, European, and contemporary drum rudiments join the collection and up the ante to cover the full house of Percussive Arts Society (PAS) forty International Drum Rudiments. Each card contains a musical example of the rudiment and reference stickings. Whether you are an inverted flam tap master or don't know your flamacue from a pataflafla, these essential rudiments are the key to understanding the core language of drumming.
The cards feel great, are really fun and informative and make for an ace-in-the-hole gift for the card shark drummer in your life. I hope you have the chance to check them out.
For more on Alfred, visit www.alfred.com.