On the Beat With Turbowolf's Blake Davies: Drawing Inspiration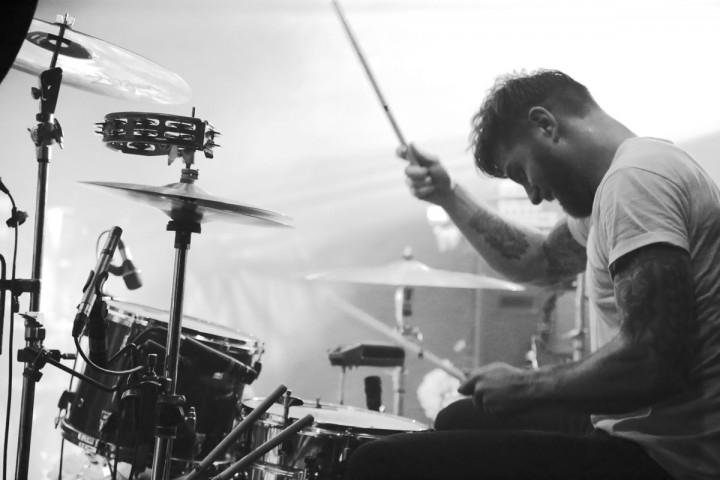 Hello! I'm Blake Davies and I play drums in Turbowolf. As I write this, I'm cleaning my Yamaha Maple Custom kit for another summer of shows and remembering festivals gone by. It got me thinking about inspiration and from where we draw it.
I'm having a lot of fun promoting Turbowolf's new album Two Hands, which is out now. The reception has been great so far, and it keeps getting better. Along the way I've been lucky enough to see some of my favorite and most inspirational drummers from the side of the stage—David Sandstorm, Tré Cool, and Iggor Cavalera. I was actually playing drums naked on stage with Iggor at Brixton Academy…but that's another story.
Anyway, it has occurred to me that if I had to make a list of drummers who inspired me the most, there would be two lists: one for guys like Dave Grohl, John Bonham, and Benny Greb and another for my friends whom I have learned from over the years. Advertisement
This is one of the reasons I've started working on my own. The idea is to try and capture my life on tour from behind the kit, which basically means badly shot footage and only being able to hear the cymbals. It's pretty raw. Eventually I'm going to include drum-offs with friends and other players I admire. Rather than focusing on techniques and rudiments, it will be about the drummer's unique personality, where the mistakes are as important as the inverted flam taps and paradiddle-diddles. The Purdie shuffle is always welcome, though.
Let's talk about drummers from my hometown, Bristol UK, and beyond, who, in my opinion, don't get enough credit. Check them out: Shaun Sepr (Olanza), Stu Lloyd (the Social Club), Des Rogers (the Yes Rebels), Toby Bang (John Fairhurst), Aidan Sinclair (the Computers), Dave Brent (Caves), Will Taylor (Spy Catcher), and Simon Lawrence (Strange Planes).
Growing up in Bristol and the touring punk scene in the UK and Europe, I would watch my friends play every night and learn so much from them without even knowing it. All we would do is talk about drums and show off to one another, trying to out play each other. When you're in a music scene you thrive off each other's creativity and challenge yourself and others to grow musically (even though most of my friends don't spend their lives in the back of vans playing drums every night anymore). When I do see them play it reminds of how great they are and how much I've stolen from them. So sometimes when you need inspiration, go to a local show and watch your friends destroy it. Advertisement
Thank you to Yamaha, Zildjian, Protection Racket, and Tuner Fish lug locks. Cheers!
For more on Blake, visit www.blakedrums.com and for more on Turbowolf visit www.turbowolf.co.uk.