On the Beat With Nelson's Gunnar Nelson: A Drummer Who Happens to Sing and Play Guitar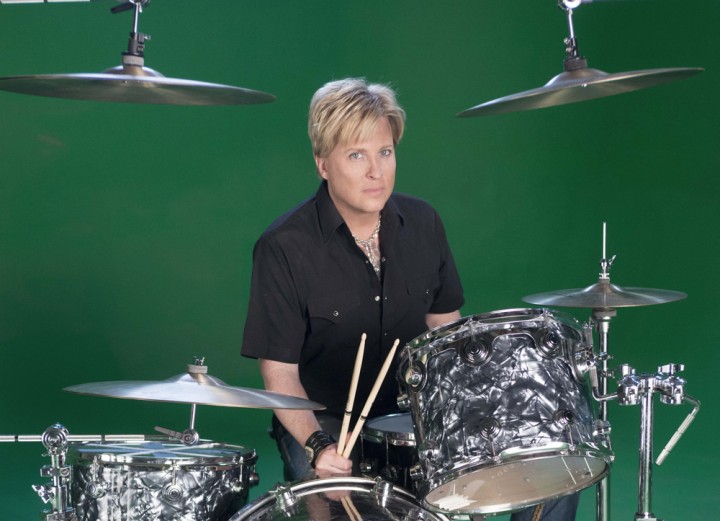 Hello, Modern Drummers! I'm a drummer who happens to play guitar and sing. It has been said that drumming may be the first music man ever made. In my case it has been a source of who I am.
I was born in the "summer of love" on September 20, 1967 in Burbank, California to a rock icon of a father and a primitive painter of a mother. The Haight-Ashbury scene might have been all the rage in San Francisco that year, but at the same time down the coast a few hundred miles, there was a slightly less psychedelic but even more influential musical renaissance happening in the Hollywood Hills. Ground zero for this cultural and musical paradigm shift was a little club on Wilshire Boulevard called the Troubadour—and on any given night one could see the Buffalo Springfield, the Hollies, Crosby Stills and Nash, Linda Ronstadt's first band (the Stone Ponies), Jackson Browne, James Taylor, Graham Parsons, and Rick Nelson and the Stone Canyon Band.
After selling 100-million rockabilly singles as America's first TV based teen idol, my father Rick (formerly Ricky) Nelson was slugging it out in this folk-rock soup of a scene with what the Rock and Roll Hall of Fame would later credit as the first true country-rock band (I'm proud to say that my pop was the first guy to brilliantly put a pedal steel guitarist right along side his own Les Paul cranked through a Marshall half stack). It was smack dab in the middle of this renaissance that I was born and raised.
My first real memory was of sitting off to the side of the backstage at Knott's Berry Farm's Good Times theater in Southern California on an apple crate watching my father perform. I remember making the connection that my pop was having a great time as the center of attention and the audience was having a great time loving him—and that this was what I wanted to do with my life. At the same time, I couldn't take my eyes off the drums. Sure, a two-and-a-half-year-old would love shiny things, but even at that age making a memory that I would remember as my first was an experience that was truly visceral. So much power, so much flash (my pop's drummer Steve Duncan had a huge double bass drum setup at the time), and even then I could tell that it was those drums that were the engine that pulled the train. I was hooked. Advertisement
My dad rehearsed his Stone Canyon Band in the pool house of the home we lived in up in the Hollywood hills on Zorada Drive. Apparently, every time his band took a rare break between wood shedding sessions, four year old Gunnar was in there jumping on the drummer's drums, feet off the floor, making a racket. It drove everyone (especially my dad's drummer) absolutely nuts. One or two times would have been cute, but I was absolutely obsessed, and it was distracting to say the least.
My parents finally relented, and I got my first drumset when I was six-years-old, which was immediately put in the hayloft of the barn about a hundred yards away from the main house. It was a pawnshop find; my parents must have spent fifty bucks on an off-brand made in Korea called Tempest drums. But, it was red sparkle and it made noise, and I loved it!
My pop's drummer came over and set up the kit, showed me how to position myself (we had to cut six inches off an old wooden kitchen chair in order for me to reach the pedals), and showed me a basic 2/4 groove, then split. The rest was all me jamming to the radio and trying to sound like what was coming through the speakers. Again, I was obsessed. Every free minute I wasn't at school was spent playing along to my then current '70s hit parade. Everything from "Strutter" by Kiss to "Hot Child in the City" by Nick Guilder, you name it, if it came on WKHJ radio, I was grooving to it. Advertisement
My addiction was all made much more convenient and collaborative when my identical twin brother Matthew got his first bass guitar a year later on our seventh birthday. We were a fierce rhythm section from the very beginning. Maybe there's something to that "twin speak" thing, but we always seemed to just know what the other was going to play at every given moment (meaning that we both had this uncanny knack of being able to screw up at exactly the same time without making eye contact, and from opposite ends of the stage). Word started to spread, and we were asked to play at the middle school's talent show (pretty cool since we were still only nine at the time, and a few years away from even being in middle school). Linda Ronstadt's "Blue Bayou" never had as much cowbell in it, and probably never will.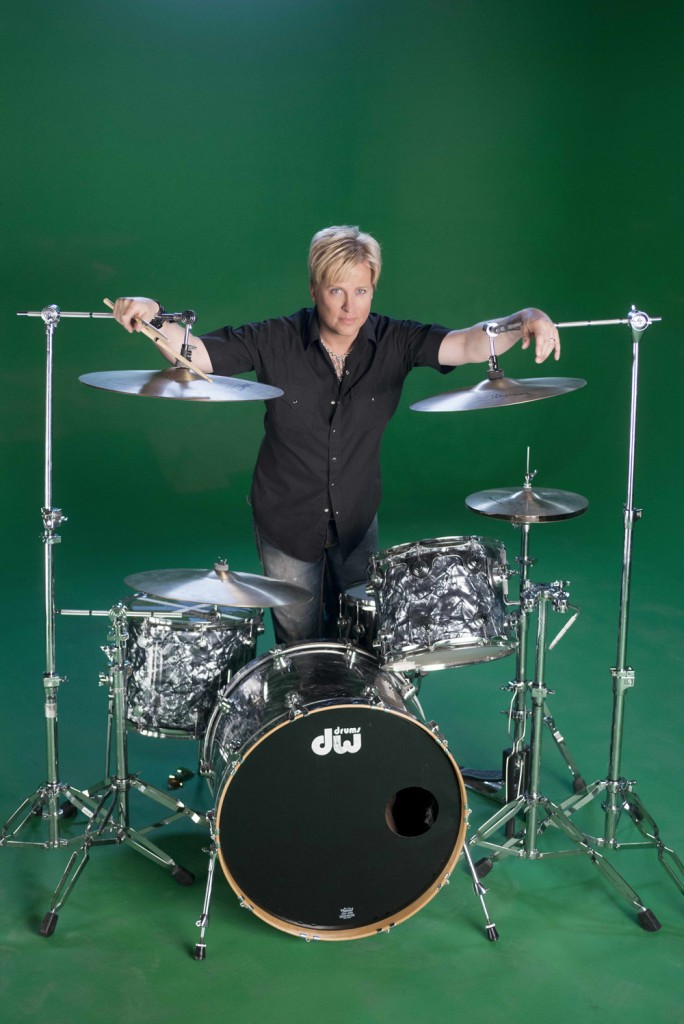 On my twelfth birthday, I was surprised with my very first recording session as a birthday present from my father. I walked in to what I thought was a dentist's office (yep—my parents had that sort of a sense of humor, indeed—telling a twelve-year-old that he had a dentist appointment he couldn't escape on his birthday). The first thing I saw was my sparkle red drumkit all set up behind the glass. Pop produced the session and his guitarist joined in, my twin played bass. I didn't know until later that those nice ladies who stopped by and sang backgrounds at the end of the night were the Pointer Sisters (I now know, I had a very normal childhood). We cut an original that my brother had written, and it was the first time that I heard myself back over the speakers. Note one to self: I needed to work on my timing. Note two to self: I sounded like Alvin the Chipmunk when I finally heard myself sing. It was humbling—I was only twelve, so cut me some slack. But know this, if there was ever any doubt at all about what I was going to do when I grew up, it died that night. I wore that studio tape out listening to that session when I got home and I was going to be a world-famous drummer if it killed me.
Thank god I had semi-understanding parents because we started playing the LA nightclub scene professionally just a few months later. Twelve years old you say? Yeah, right. It's very true. This was during the heyday of the skinny tie bands in LA, and the club scene was positively burning. After we got City Hall to pass an ordinance allowing underage performers in clubs that served alcohol as long as they were escorted by a parent and left immediately after they played, we started playing four to five gigs a week. Advertisement
We built a bit of a reputation for ourselves over the next few years and it was brutal. But I wouldn't trade playing those gigs for anything. It forced me to grow up instantly as a drummer and a performer. I had to hold my own with bands on the scene at the time like the Knack, the Plimsouls, the Go Gos, the Bangles, the Romantics, the Unforgiven (all the "the" bands) plus a lot of incredibly competitive bands that you've never heard of. Madame Wong's West and East, the Blue Lagoon Saloon, the Whiskey, the Central. People make a lot of fuss about the hair band scene on the Sunset Strip, but the scene we cut our teeth on preceded that by a decade, and it was a much more tougher environment, believe me.
I figured out years later that the skinny tie pop scene in LA was crawling with jaded sociopaths that were all hooked on smack. The later hair bands all sang about being tough and the pop guys actually were. The spandex boys would try to steal your girlfriend while you were busy loading out your drums. But the pop guys would stick you with a switchblade if you went ten minutes over on your set, step over your body, and sing sweetly about some pretty little girl that had stolen their heart. Chilling. Holding my own with the likes of those zombies truly served me later on when it came to dealing with some of the managers I've had.
By the time I was seventeen or so, the five years I'd spent slamming it out in the clubs and being inspired by drummers like Terry Bozzio, Neil Peart, Jack White of Rick Springfield, and Bryan Holmes of the Producers. I was wasting time during the day staring at the clock at Palisades High School, reading copies of Modern Drummer magazine hidden in my school books, drawing diagrams of drumsets I'd own one day, and daydreaming about driving our band on drums at the Enormo-Dome from the best seat in the house. Advertisement
Then immediately after school it was to the basement I kept my drums in to woodshed for hours until someone told me to stop (mom, the neighbors, the cops). My brother and I were always doing original songs and I loved the writing. It was a little frustrating though because I only played a rhythmic instrument, so I had to hum to my brother what I heard in my head, and he'd try to translate it on guitar. But the songs kept coming and after a thousand or so sucky ones, they seemed to get catchier. But that was my life at the time—an endless cycle of being bored at school, daydreaming, wood shedding, writing, rehearsing, gigging. Rinse and repeat.
In time, our band, the Nelsons, was on a roll. Finally, after years of playing Wednesday nights to no one but the soundman, we were packing the clubs on prime Friday and Saturday nights. Packing the place at a club like the Central (now the Viper Room) meant about fifty people, but go with me here. It was finally working. We had some local management that was interested in us due to the buzz (funny how that happens!) and before we knew it, we were booked on a couple of national TV shows. They went well.
And then the call came—Saturday Night Live. Yes, it's a little known fact that years before we reinvented ourselves completely under a not so completely different moniker Nelson, my band the Nelsons was the only unsigned band in history to perform as the musical guests on SNL, which was then the most powerful taste-making TV show on the air. Pretty cool. Look it up and you'll see pre-nose job Gunnar Nelson playing drums and singing backup in a cut off T-shirt sporting a pompadour about two feet high. Advertisement
Playing SNL was by far the biggest visible moment I've ever had as a drummer. For a great reason, from that point on, my drumming went underground and behind the scenes, but it's always very much been there. It was on the plane trip home to LA from playing SNL that I fell asleep and had a dream that changed my life. In it I saw myself up front for the first time, not behind the drums, singing lead and playing guitar. Interesting, because I'd never picked up a guitar in my life to that point. But I felt like I was being given a powerful message.
I shared my vision with my twin (the other half of a rhythm section that had been grooving together since we were six) and he thought I was nuts. A drummer exclusively my entire life, here I was just when we were on a roll at a major national level and I'm telling my partner I want to step away from (in front of really) the only instrument I knew and had devoted tens of thousands of hours to and start from scratch on guitar. One could look at it as complete self-sabotage. But I thought of it this way—my foundation as a lifelong drummer could make me one hell of a rhythm guitar player. I wouldn't be approaching the instrument melodic, but as a rhythmist. And I also reasoned that a person who brags about being a guitarist for ten years only really has had the guitar in his hands an hour a day if he's lucky (with everything else in life to deal with). What if I were to do nothing but learn how to play the guitar for ten hours a day, every day, for a whole year? It would be logical to assume that I would then have the same experience and chops as ten-year guy. So that's what I did.
It was a good time to do it. That period of super-focus got me through a really hard time in my life (the loss of my father from a plane crash on New Year's Eve 1986). Ten hours of guitar and an hour on top of that playing drums to exorcise my demons. It worked. Two years and two hundred songs later, Nelson (just Matthew and Gunnar, really) got signed to Geffen Records by John Kalodner (AC/DC, Aerosmith, Whitesnake). Advertisement
From the very first Nelson record, that's me you hear on all of the guitars except for Brett Garsed's incredible solos. But what you might not know is that it was my being a drummer that has always been the foundation of the Nelson sound. Our producer at the time called it "moving crunch rhythm" but it was basically approaching the guitar like a life-long drummer would (treating the instrument like it owed you money).
To this day, when I write songs and record songs, it's drums first. A good example would be Nelson's first number-one hit, "Love and Affection." If you'll listen to the chorus, you'll notice that the subtle drum part is actually a very large part of the hook. There's a crash-snare-snare-crash that repeats itself under the first halves of the chorus vocal lines (I can't live without your….) (I can't face another…) that might not sound like much, but it made a huge difference when we went from the original demo to the final radio version. The demo was cut with this drum hook but later the first pass at the real studio re-do for radio was not (our incredible live drummer Bobby Rock didn't want to play the drum hook the way it was written) and the song wound up on the cutting room floor. Yep, believe it or not, the lack of one simple repetitive drum fill almost killed a hit. This particular song was trashed but wound up getting re-cut a second time with the only difference being a particular drum fill at the top of the choruses and it went on to number-one and sell five million copies. Drums are that important!
As I sit here reminiscing, I look back on an amazing career. It's been a long and winding road since that first red sparkle pawn shop drumset with the pedals I couldn't reach. I've been so blessed. Ten million records sold, many world tours to millions of people, much chart success, fifteen records on my own label over twenty-five years. Living the dream. But behind it all, the entire time, I've always been a drummer. To the public, live and on video, I've always been out front with a guitar in my hands. But my family and friends have always known me as Gunnar the Drummer. Advertisement
I have to send a special shout out to my friend John Good at DW drums. John is one of the most generous (and visionary) people I know. I have been a DW endorsee for twenty-five years now and John has made sure there's been a DW kit present at every recording session I've done in that time—but no one has ever been able to see me with that DW logo in front of me. John's gotten no signage out of the deal, but he's been so supportive nonetheless it's truly inspiring. Through the highs and lows that come with any career, John has always reminded me that being a drummer is a way of life, not an occupation. It's a philosophy and an attitude. John is the soul surfer of drums and my mentor as a drummer.
So let's bring us up to speed. The past twenty years or so have seen me rediscover a newfound respect for groove. I'm no longer so much a power fan of the on-top-of-the-beat chops guys from my teenage club years, I now love to listen to and strive to emulate groovemeisters like John Bonham, Don Brewer, and Don Henley (a seriously underrated drummer in my opinion. It's not his fault that he's such a great singer!). Every day, no matter what's going on in my life, I'll find the time to sit behind the kit and get back to the beat. Drums have always been the true north in my musical compass. Deep in my heart, I know they'll always be. I think every drummer reading this will know what I mean by that.
Nelson's final two records (Lightning Strikes Twice and this year's Peace Out) feature me on the drums. If you're curious, listen to those two records and you'll hear me trying to keep the pocket deep and inviting. I'm proud of the work. I'm honored to give a few thoughts and thanks back to the magazine that kept me sane as a frustrated teen that was dying to get on stage. Advertisement
Thank you to Modern Drummer and all the fans. Because of you both, I submit myself humbly as a man who's come full circle. I'm not a front man who happens to play a little drums; I'm a drummer who happens to play guitar and sing.
For all things Nelson, please visit http://www.matthewandgunnarnelson.com.
Watch the first music video "Rockstar" from the new Nelson album Peace Out below: