Drummer Blog: Billy McCarthy on the Documentary Ferocious Drummers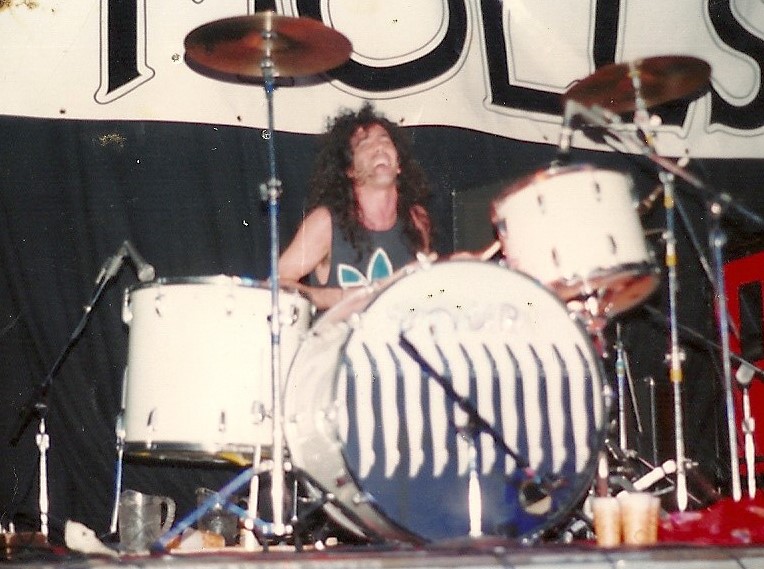 Hello Modern Drummer readers! My name is Billy McCarthy, and right now the trailer for my documentary film, Ferocious Drummers, is up at www.kickstarter.com. With this film, I am hoping to move drummers to a place they hardly visit on the actual stage—right up front and center.
Before the idea of Ferocious Drummers ever came to me, I was a seventeen-year-old kid in the '80s who had bought his first four-piece drumset for $125. After two days of blaring my headphones and never leaving my set, I knocked out all of "Headknocker" by Foreigner. Three years later, I was drumming in one of Chicago's popular power-pop bands.
It kept going from there. At twenty-two, I was called to drum for a rock band in Hollywood. The '80s had quite the scene. In between gigs, I was a housepainter with fellow musicians, and I specifically remember the night our crew painted the offices of Atlantic Records. While my roller and paintbrush took to the walls, I marveled at the platinum and gold records of Led Zeppelin to Ratt. I told myself to just be patient, I would revisit Atlantic Records someday, and it wouldn't be with a bucket of paint. Advertisement
Two years later, in 1986, I returned to that office on Sunset Boulevard with my newly formed rock band to sign a two-album deal. My patience had paid off, and I was thankful that I had held onto my belief.
In 2007, I had an idea. Little did I know, that idea would still be growing almost a decade later. I called it Ferocious Drummers. I started talking on the phone with drummers I had never met, legends who I greatly admired: Stan Lynch, Carmine Appice, Steve Gadd, Chad Smith, Liberty DeVitto, Steve Jordan, Carter Beauford, Charlie Benante, Max Weinberg, Hal Blaine, and more. With these drummers onboard, my project now had adrenaline. With a little capital investment, I found the best film crews in LA, NYC, and Chicago, and began shooting.
Twenty-three cast members later, the economy crashed and production halted. We were broke. However, like before with the painting, I would not be broken in spirit.
And now here we are in 2015. Regardless of the highs and lows, I want the world to hear the stories of real drummers who have been onstage in front of hundreds and thousands of people. Advertisement
Did you see the Oscars this year? My dream is to be there with Ferocious Drummers in 2017. I am forever proud to be a drummer, and I want to make something that helps inspire other drummers.
MD readers and anyone who loves drums and drumming, please go to www.kickstarter.com to view the film trailer. Together we will resume this journey. Your friendship and support are much appreciated. Let's show the world what it means to be a ferocious drummer! Thank you for reading!