News: Vic's Drum Shop Wins 2014 Outstanding Retailer Award From Vic Firth Company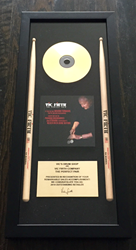 Vic's Drum Shop in Chicago has been selected to receive the 2014 Outstanding Retailer Award from Vic Firth. The award was presented to drum shops across America that achieved double-digit sales growth last year with more than $25,000 in annual sell-through of Vic Firth products.
"What Vic's Drum Shop offers the international drumming community is amazing," says Mark Dyke, Director of Global Sales for Vic Firth. "The variety of percussion products in stock, the merchandising of each product group, and the knowledge, feedback, and guidance that Victor Salazar and his team shares with us is truly an inspiration. The store is a great drummers' hang regardless of a player's ability level, and I'm thrilled that our products are so well received by their online and in-store customers."
Vic Firth's offerings have been stocked at Vic's Drum Shop since the store opened in Chicago in 2011. Since then, the store has become a shopping destination for drummers of all skills levels and backgrounds from around the world, as well as the world's most elite drumming and percussion professionals including Steve Gadd, Bernard Purdie, Steve Smith, Stewart Copeland, Kenny Aronoff, Terry Bozzio, Will Calhoun, Jimmy Chamberlin, Jimmy DeGrasso, Jerry Gaskill, Gavin Harrison, Johnny Rabb, Jim Riley, John Riley, Derek Roddy, Danny Seraphine, Todd Sucherman, Nathaniel Townsley, Chad Wackerman, Billy Ward, and more.
"The retail music industry is based on relationships, and we're extremely fortunate that Vic's Drum Shop has developed such close ties with the entire staff at Vic Firth, from their inside sales reps and artist relations managers to product development managers and Mr. Vic Firth himself," says Victor Salazar of Vic's Drum Shop. "We proudly stock the company's entire catalog, and thanks to the consistent service and support that we receive, we're always able to fulfill our customers' exact product needs."