Album Review: Ringo Starr <em>Postcards From Paradise</em>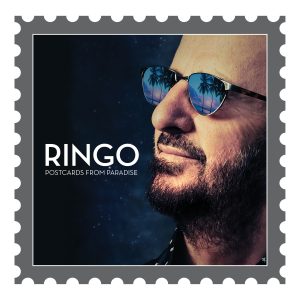 The peace-and-love guru is back with his eighteenth studio release. Postcards From Paradise was produced by Ringo and recorded at his home studio in Los Angeles, and, as all his previous solo albums, features a little help from his friends and family. Among the contributors this time are Joe Walsh, Benmont Tench, Dave Stewart, Richard Marx, Peter Frampton, Nathan East, and Glen Ballard. Unlike previous Ringo recordings, however, Postcards includes one song, "Island in the Sun," written and recorded by Ringo and all the members of his All Starr Band: Steve Lukather, Todd Rundgren, Gregg Rolie, Richard Page, Warren Ham, and Gregg Bissonette, who plays percussion, trumpet and steel drums on the track.
As usual, if you're expecting a "drummy" album featuring crazy fills and odd time signatures, you'd be better off looking elsewhere. What you will get is Ringo having fun and laying down the formula that he's perfected for the past fifty years, playing exactly what's right for the song, no more and no less.
The album kicks off with "Rory and the Hurricanes," a lyrical trip down memory lane going back to Ringo's first band. On the title track Ringo and Rundgren pay tribute to the drummer's next band—yup, the one he changed the world with—by creating the lyrics out of the titles of many of the Beatles' most famous songs. Ringo, who also plays keyboards on this track, lays down the on-the-money groove we've all loved for so long, which is made even tastier by the amazing drum sound heard throughout the entire record. (Kudos to engineer Bruce Sugar.) The track "Touch and Go" will also touch a nerve with Beatle fans—you can practically see him bopping his head as he's playing, as this track comes the closest on the record to a swinging "mop-top" beat. Advertisement
On "You Bring the Party Down," co-written with Toto's Steve Lukather, Ringo goes back and forth between a reggae-like feel and a driving rock beat, adding well-timed timbale overdubs. (Like his past few releases, Ringo lays heavy on his reggae influence throughout, including on the tracks "Island in the Sun," "Right Side of the Road," and "Bridges.") On "Bamboula," Ringo lets loose on a syncopated New Orleans–inspired snare/tom rhythm, with more overdubbed percussion, while on the track "Confirmation" he plays a laid-back Motown groove. Then on "Let Love Lead," he channels a Charlie Watts vibe and throws in a few unexpected upbeat cymbal crashes, and after the lead guitar break kicks into a snare/tom groove with a beautiful buzz roll.
Postcards from Paradise is officially out on March 31. For more on Ringo visit ringostarr.com. (Universal Music) Billy Amendola