News: Tenth-Anniversary Meinl Drum Festival Lineup Announced!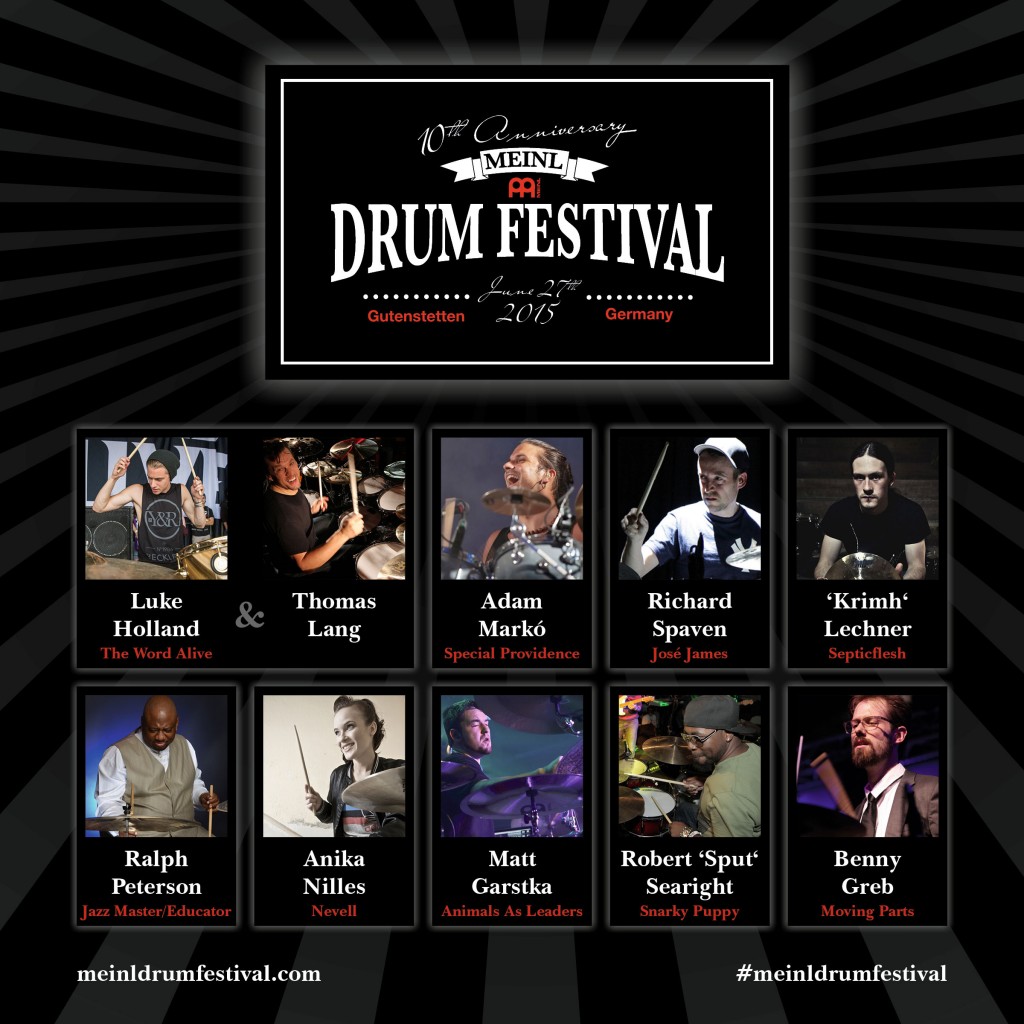 The tenth-anniversary Meinl Drum Festival will take place June 27, 2015, in Gutenstetten, Germany, and will feature a lineup of world-renowned drummers.
Luke Holland, known on YouTube as LukeHollandDrums, is best known for his drum covers and for being the drummer for metalcore band the Word Alive. Luke has been a Meinl endorsee since 2010 and will make his debut at the Meinl Drum Festival this year.
For many years, Thomas Lang has been among the most popular drummers on Meinl's artist roster. He is currently active with his bands stOrk and Spark7. He has also worked with artists like Paul Gilbert, John Wetton, Falco, George Michael, Robbie Williams, Gianna Nannini, and more. He also conducts international Thomas Lang Drumming Boot Camps each year. This will be his sixth appearance at the Meinl Drum Festival. Lang has been a Meinl endorsee since 2001.
Adam Markó is the drummer in instrumental jazz-metal quartet Special Providence, which has became one of the most well known acts in the European progressive scene, thanks to its virtuosic but easily digestible sound. Besides his own band, Markó is a session drummer in Hungary, taking on various styles, from hip-hop to pop, rock, and metal. Adam has been a Meinl endorsee since 2013 and will make his debut at the Meinl Drum Festival this year. Advertisement
Richard Spaven possesses a humble attitude and down-to-earth personality that draws people to him, and he has a lot to offer on the drumset. José James and producer Flying Lotus are just the most previous names in a long line of artists to call upon Spaven's musical abilities. Richard also leads his own band and recently released a solo album, entitled Whole Other. Spaven has been a Meinl artist since 2013, and this is his first appearance at the Meinl Drum Festival.
Krimh Lechner is an Austrian multi-instrumentalist and professional drummer who started playing at the age of fourteen. Even though he is a specialist in metal drumming, he has experience in rock, funk, pop, and acoustic music. Since 2010, he has been a part of Polish death metal band Decapitated. He left Decapitated in September 2012 to work on his solo album Explore and to increase his contributions as a session drummer. In December 2014, Lechner released his second solo album, Krimhera. A couple of weeks later, he joined Greek symphonic death metal band Septicflesh. Krimh joined the Meinl family in 2010, and this is his debut performance at the 2015 Meinl Drum Festival.
For thirty years, Ralph Peterson has been one of the most distinctive and recognizable drummers in jazz. His recording and touring credits includes jazz greats Terrence Blanchard, Branford Marsalis, Patrice Rushen, Stanley Turrentine, David Murray, Dizzy Gillespie, the Count Basie Orchestra, Betty Carter, Michael Brecker, Kenny Barron, and many more. Peterson's latest recording, his eighteenth as a leader and fourth on his own Onyx Productions, is entitled Alive at Firehouse 12, Volume 2: Fo' n Mo'. Peterson's students are among the most in-demand players in jazz, including EJ Strickland, Ari Hoenig, Justin Faulkner, Rodney Green, and Jonathan Blake. Ralph is full professor of percussion at Berklee College of Music, and he has been a Meinl artist since 2012. He helped develop the Byzance 22″ Symmetry and 21″ Nuance rides. Advertisement
Anika Nilles is a German drummer, songwriter, and producer. She released her first EP, Alter Ego, in 2014. Nilles' fine technique, distinct sound, and strong groove characterize her music and way of playing. Anika joined the Meinl family in 2014.
Inspired by his father, Greg (a professional guitarist), Matt Garstka began playing drums at age eight. At age eleven, he was gigging with his father, playing rock, blues, and reggae. Matt graduated from Berklee in 2011 and moved to L.A. shortly after to further his musical pursuits. He is a member of progressive band Animals as Leaders. Matt joined the Meinl family in 2012.
Grammy-award winner Robert "Sput" Searight is a graduate of Booker T. Washington High School for the Performing and Visual Arts in Dallas, Texas. He has worked with some of the best artists in the industry, including Celine Dion, Kirk Franklin, Snoop Dogg, Erykah Badu, Justin Timberlake, Teddy Riley (GUY), Jodeci, Timbaland, and Marcus Miller, and he currently drums and produces for jazz-fusion band Snarky Puppy. Advertisement
Benny Greb was born in 1980 in Germany and began playing drums at the age of six. Initially self taught, he began full time studies in 1997 and quickly made a name for himself in the Hamburg music scene. Benny's drumming is slick, musical, and full of finesse. Greb has performed at high profile events, such as the Modern Drummer Festival and PASIC. He has released several albums of his own compositions: Grebfruit, Brassband, Two Day Trio, and Moving Parts. His award-winning The Language of Drumming video was released in 2009 and is still one of the best-selling educational DVD sets worldwide. Greb has been a Meinl artist since 2003.
For more information, visit www.meinldrumfestival.com.