Drummer Blog: Phil Maturano on Crossing Cultures and Indian Drumming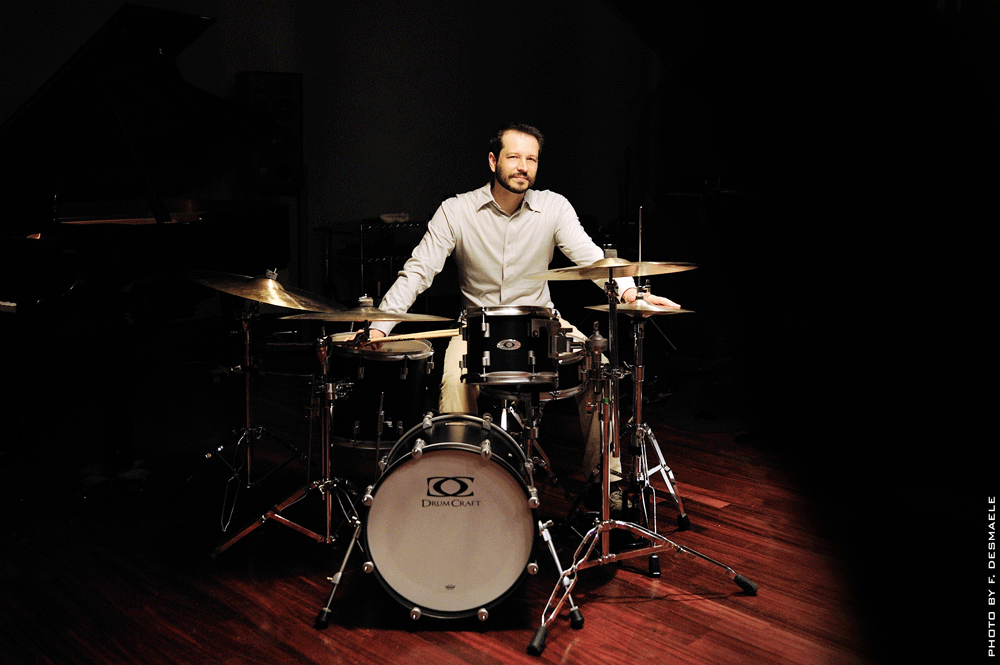 Hi, MD readers. It's a pleasure to greet you here, and I hope all is well.
As you may or may not know, in 2014 I had an extended stay in India. I was there doing concerts with some of the greatest players from that country and teaching western drumming at a music college. Being in India was truly a life changing experience. Although playing and teaching got me there, one of the main reasons I went was to further integrate Indian drumming into my own drumming. I have studied it in the US through the years and it's always held an intense fascination for me. But this time, I really wanted to take it the next level to see what I could really do! So for those of you who are curious, I will outline what plan of action I took and how it changed my playing.
Drumming and traveling go hand in hand. In order to really get nice feel for a genre you might be trying to add to your repertoire, you have to experience the culture behind the genre. Become a part of it and let it wash over. Let it into your pores. You have to eat their food and dance with them to their music. If you haven't done extensive traveling, going to India for a westerner can be a cultural shock! Personally, I thrive on being in different cultures and getting out of my comfort zone lifestyle wise. If you are like me travel will be amazing! I really think that once you are past a certain point technically on your instrument, the life of a musician, if you want to continually expand into world music, is the life of a field researcher or ethnomusicologist. As a major side-note to that, all the eating and dancing will be of little consequence if you don't have the right teacher and information on your side.
The ABC's of Indian drumming—Konokol (also spelled Konnakol)—takes a lifetime of learning. For jazz, especially for world music, Konokol phrasing can be a huge asset to your creativity. It can change your life in drumming. My main goal is always to slowly integrate that vocabulary into my own drumming on the kit, not to be a master tabla player in one year. Advertisement
To play tabla takes a huge amount of practice just to get a great sound. So the first step in adapting the phrasing to the kit is absorbing that vocabulary, letting it wash over you and seeing what comes out. Of course, I sat in on Konokol classes and took some private lessons, learned about the different tabla and the differences between North and South Indian drumming. I also listened a lot, went to concerts and slowly adapted things onto the kit. But what I really focused on is that vocabulary.
After teaching classes I sat in a practice room and went to work. I applied my western drumming knowledge, experience with African descent music, and independence to the phrasing of Indian music so that in the end I could have my own voice with it. Working out ideas using rudiments and using any phrasing possibilities I could come up with. I wanted enough knowledge so that I could function and expand.
It took a little under a year of hard work. I did take lots of notes and recorded myself playing the ideas. The results of all this work you can now hear on my new CD and all the notes I took are now reflected in my new phrasing system "Paradiddles and the Magic Sticking." Sounds like a children's sci-fi book, right? That's okay; I wanted a title that might be intriguing and not intimidating. All the stuff I was hearing in my head is now in these series of videos and the booklet that is on my membership site. (The booklet is in PDF format and it's pretty massive). I am very happy that I spent all that time in India because it really changed my playing. And I grew tremendously as a person. That stuff to me is immeasurable in value. Advertisement
Here is a sample of my "Paradiddle and the Magic Sticking" series.

And here are some of those ideas put into a musical context.

Apart from the simple passion I have for Indian music, this mixture of vocabulary I have, Indian, African and Western, I believe, has created a more unique voice for me, more unique than ever. The key to it all is to apply it in a musical way, not to sound like exercises inserted wherever you want to do a fill. That goes without saying in any system. But with Indian phrasing, in particular, the temptation to recite Konokol over anything and everything is strong. So you have to pay particular attention to musicality to not sound mechanical. One of the great advantages in this study is that your rhythmic ability becomes very highly developed. And as I like to say, "Rhythm is our house!" Studying in India, a rhythmic mecca and using a system like Konakol truly takes things to a whole other level.
You can check out my membership site by following the link below and of course there are lots of free lessons as well as the main core curriculum inside the site.
For more information, visit www.pmlessons.philmaturano.com.