(Available digitally Janury 29, 2015; on newsstands February 3, 2015)
On the Cover
Animals as Leaders' Matt Garstka
Some would say that even in the most futuristic of musical styles, it still don't mean a thing if it ain't got that swing. This month's cover star thrives in that place where technique and feel coexist. By Ken Micallef. (View Video: Matt Garstka Demonstrates Animals as Leaders' "Nephele" and/or Video: Matt Garstka Demonstrates Animals as Leaders' "The Future That Awaited Me")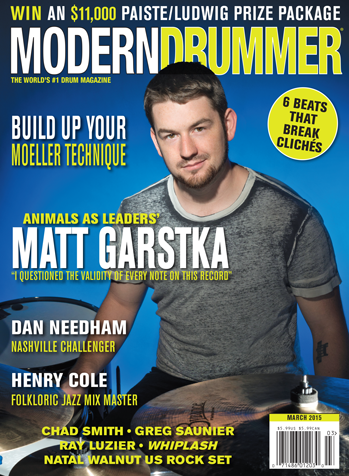 FEATURES
Catching Up With… Chad Smith /// Willie Green /// Neal Smith
Henry Cole Folkloric to free, in perfect harmony.
Dan Needham Respecting Nashville's past, looking to its future.
Greg Saunier Setting sights on an aural apocalypse with Deerhoof.
Up & Coming Anika Nilles—what's good about online drum culture.
Inside Methods Ray Luzier's Double Bass Drum Techniques.
EDUCATION
Basics: More Balance Builders
Four-Limb Exercises to Get You Feeling Grounded on the Kit. By Jayson Brinkworth.
Rock 'n' Jazz Clinic Progressive Independence: Rock Revisited
A Step-by-Step Method for Building Creative Coordination. By Miguel Monroy
Rock Perspectives Diamonds in the Ruff
Part 1: The Mighty Three-Stroke. By Matt Starr. (View supplemental video content here)
In the Pocket Grooving on the Snare
Six Beats That Break From the Kick/Snare/Hat Cliché. By Greg Sundel.
Strictly Technique Rudimental Clave With Inverted Stickings
Musical Exercises for Developing the Whip-and-Stop Technique. By Bill Bachman.
Jazz Drummer's Workshop The Collapsing Concept
Crushing Roll Rudiments to Create Contemporary Swing and Solo Ideas. By Steve Fidyk.
Equipment
Product Close-Up
• Natal Walnut US Rock Drumset
• Crescent Elements Series Cymbals
• Pork Pie Wood Over Brass Snare Drums
• Studio Lab Percussion Drumtacs
• Logjam Prolog Stomper
Gearing Up Katy Perry's Adam Marcello
Spotlight Yamaha Drums
Shop Talk
• Stanbridge Empyrean Todd Sucherman Signature Snare Drum
New and Notable
Concepts Time Keeps You Humble
When You Think You Know It All, Think Again. By Russ Miller
DEPARTMENTS
AN EDITOR'S OVERVIEW
On the State of the Music Business. By Billy Amendola,
Readers' Platform
News
Showcase Featuring Drum Market
Critique
Backbeats Whiplash and PASIC 2014
Kit of the Month Trapped in Time
and more!