Drummer Blog: Cognition's Evan Michael on his Passion for High-Intensity Drumming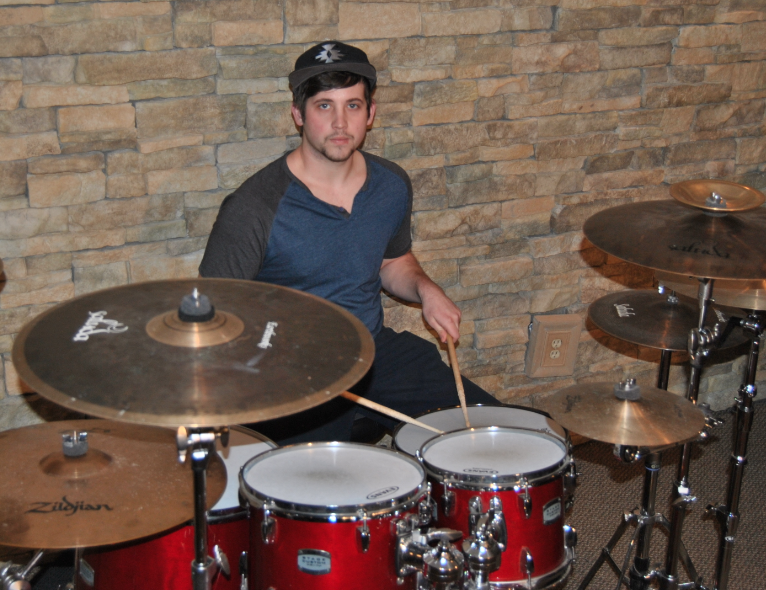 Hey there, ladies and gentlemen. This is Evan Michael, drummer for the metal band Cognition, here to bring you some details of my history with drums and music and also to share some insight into how I came to be the musician I am today and where I strive to be in the future.
The first time I picked up a pair of drumsticks was around seventh grade when I was trying out for our school drum line. I made the cut and found that I loved playing the drums. Playing the marching snare for four years in high school helped tremendously with my technique and basic rudiments and really sparked my passion for the drums.
Now, this was all great until I sat down at a drumset for the first time; my hands did what I told them to, but my feet…not so much. When I first started messing around on a kit, around the age of fifteen, I was frustrated with my legs. God forbid I try to kick my bass drum in between the clicks of my hi-hats—my right hand always had to follow my right foot. GGAAAHHH! I soon came to realize that playing the drums wasn't as easy as whacking some cups with chopsticks at Shogun down the street; it was something that would take serious time, effort, and practice to gain the skills I yearned for. Advertisement
I played with multiple bands growing up, and they all had one thing in common—high intensity. I always loved listening to fast-paced and intricate drum beats from some of my favorite bands at the time, such as Lamb of God, Born of Osiris, and In Flames, and knew the first time I heard this type of music that I wanted to be a metal drummer.
I spent years working with various musicians and groups and had a lot of great times playing local shows, and I learned many useful things along the way. I also learned what a hassle it was to have to lug drums around from place to place. Moving equipment can be time-consuming and annoying, but playing music for an audience makes it all worthwhile.
I am currently working with Cognition. Writing music with these guys brings forth many challenges for me as a drummer, but these challenges are what continue to help me grow as a musician. When writing my parts for our self-titled album, I did my best to keep it upbeat and energized. The band is now working on some new music that's really putting my skills to the test. I love every minute of it and can't wait to see this one take form. Advertisement
My current set is a Yamaha Stage Custom Birch. The finish is beautifully executed, and the drums sound great! (Given that I keep them tuned up.) I use a couple different brands of cymbals. Primarily I use Saluda Earthworks series as my crash, hi-hats, crash-ride, and China. I also have a Zildjian ride and a small Dream China. I would like to invest in some new cymbals soon and experiment with some new sounds, but cymbals can get a bit expensive! I use a DW 9000 series double pedal and have been very pleased with its smoothness and quality.
In closing, I'm fortunate to have a group of guys I can write music with that is on the same page as me. Drumming found it's way into my life and it's here to stay until the day I die—or get arthritis and can't hold drumsticks. Regardless, I have found something I am very passionate about and encourage everyone to search for a hobby or activity in which you thrive. I didn't know it was drums for me until I tried it, so do what you love. And if you haven't found that yet, don't be afraid to try something new. You never know what gifts you may possess.
Thanks for reading, and come talk to me at a show sometime!
For more on Evan Michael and Cognition, visit cognitionband.com.