News: Rich Redmond Hosts Second-Annual "Drummer's Weekend???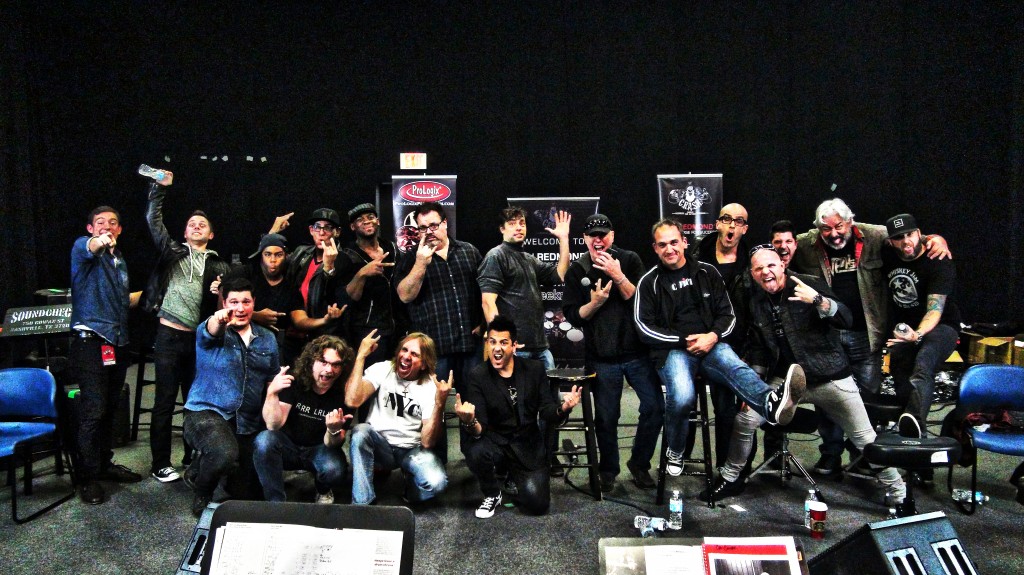 This past November, Jason Aldean drummer, Rich Redmond, led a weekend of drumming education, inspiration, and entertainment in Nashville. Highlights of this second-annual event included hands-on training with Liberty Devitto (Billy Joel), Chris Fryar (Zac Brown Band), and Sean Paddock (Kenny Chesney). Other teachers included percussionist Billy Hawn (Colbie Callait) and Ben Jackson (Frankie Ballard), who taught a class on Ableton Live in modern music.
Jim Riley (Rascal Flatts) taught a class on the Nashville number system, and Bruce Springsteen/Max Weinberg drum tech Matt Payne presented a tuning master class. Beth Gottlieb (Lt. Dan Band), Jack Bruno (Tina Turner/Joe Cocker), and Jason Aldean's Three Kings rhythm section (Kurt Allison and Tully Kennedy) also made themselves available for insightful Q&A sessions.
Campers also shared Q&A sessions and delicious meals with Troy Luccketta (Tesla), Eddie Bayers (studio legend), Ed Toth (the Doobie Brothers), Garrett Goodwin (Carrie Underwood), Matt Billingslea (Taylor Swift), Lester Estelle (Kelly Clarkson), Sean Fuller (Florida Georgia Line), Keio Stroud (Big and Rich), Kent Slucher (Luke Bryan), William Ellis (Montgomery Gentry), and Wayne Killius (Sessions). Advertisement
An all-star rhythm section of Chris Nix (Chuck Wicks/Sessions) and Luis Espaillat (Lindsay Ell/Sessions) played with students and gave them immediate feedback for improvement. This rhythm section was also the house band for a closing ceremony concert at the famed Douglas Corner Café.
The event allowed students to play with recording artists like Rick Brantley and Shelly Fairchild in front of a real Nashville audience. All proceeds from this event benefitted the W.O. Smith School of Music in Nashville. The event had strong support from it's official sponsors, Fork's Drum Closet, Soundcheck Nashville, School of Rock, Douglas Corner, Sean Deel Foundation, Western Beat, DW Drums, Sabian, Remo, Promark, Roland, Gator, Cympad, LP, Prologix, Audio Technica, Drumtacs, Pitch Slap, Red Monkey, Danmar, Auarlex, and many other amazing companies, as well as event coordination by Josh Mighell.
Advertisement