Drummer Blog: Crucified Barbara's Nicki Wicked on Finding Her Rhythm, Past Shows, and Future Plans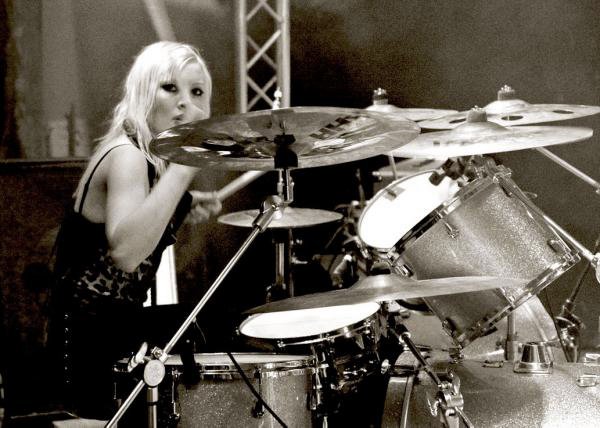 Hello from Sweden! My name is Nicki and I play drums in the band Crucified Barbara. We're a four-piece hard rock band from Stockholm, and we formed the band in 1998. We found each other through music and directly became best friends. Throughout the years we have become a very strong unit. It's more like family. I use to call my band mates my "three wives." It's an amazing feeling to be a part of something bigger than you; we're like a machine.
I play Yamaha drums, Maple Custom Absolute. I have a beautiful kit that sounds amazing and the finish is black and fades into cherry red. I play Sabian cymbals and use Artbeat sticks with both Remo and Evans drumheads.
I am self-taught and never took lessons. We started the band when we were teenagers and learned our instruments by playing together. When I was younger, I didn't have the dream of becoming a drummer, I was a gymnast and a dancer, but music has always been a big passion in my life. I guess when I tried out the drums the first time I felt I had the rhythm in my body, maybe because of the dance? I found out later I somehow always listened unconsciously to the drums when I listened to music. So maybe that came naturally when I tried it out and really liked it. Advertisement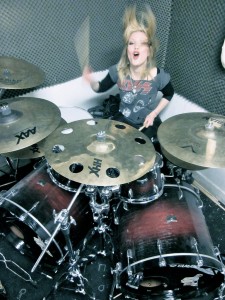 One of my biggest moments happened almost ten years ago when we played one of our first festivals, the Sweden Rock Festival. We had an early spot and were worried that people might not come because of the early time and the crappy weather.
When we arrived to the festival the sun was suddenly shining and I made a mistake right before show time and looked out at the crowd to see if there was anyone there. And yes, 12,000 people were standing there waiting. I became so nervous I almost wet my pants. During the show I noticed a guy standing behind me with crossed arms, watching me play. Throughout the gig I was wondering who he was. Afterwards, he came up to me, took my hand and thanked me for a great show. I didn't recognize him, but later on I found out it was Carmine Appice. That blew me away and it was an overwhelming feeling, because he's an idol and a great drummer.
The band has been touring a lot in Europe, Australia, and South and North America. We have recorded four albums and recently we released our latest album In the Red, and we're very proud of it. It's what I think is our best record thus far and it features eleven dynamic, energetic killer songs. The album has been received with open arms and great reviews. Advertisement
In September we went out on a European tour for five weeks, and after that continued to play some shows in Sweden. The first week in December we go to on tour in Spain. In January 2015, we're doing a Caribbean cruise, 70,000 tons of metal, and we're really looking forward to it.
We love to play live (it's our best element), meet new people and see new places. I think that hard rock music is at its best when you can experience it live. Hope you enjoyed reading. Love, Nicki.
To watch a video of Nicki look below:
https://www.youtube.com/watch?v=Cg31bj5P2Ys