January 2015 Issue of <em>Modern Drummer</em> featuring Dave Weckl
(Available digitally November 26, 2014; on newsstands December 2, 2014)
On the Cover
Dave Weckl
On a pair of distinct new projects, the legendary fusion drummer states his ambitions loud and clear. By Ilya Stemkovsky.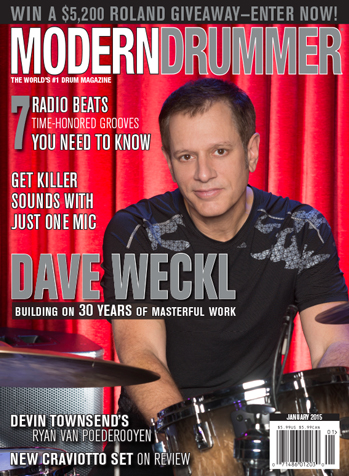 FEATURING
Hitting the Stage Michael Blair at Norway's Træna Festival
Encore Elton John's Goodbye Yellow Brick Road
Catching Up With… Godsmack's Shannon Larkin /// Lady Antebellum's Chris Tyrrell (Click here for supplemental video content)
Ryan Van Poederooyen Devin Townsend's rhythmic rock
Sebastien Grainger Riotous with Death From Above 1979
Up & Coming Kurt Elling's Bryan Carter
EDUCATION
Basics: Radio Beats
7 Real-World Applications of Essential, Time-Honored Grooves – by Rich Redmond
Click here for supplemental video content
Strictly Technique: Consecutive Flams
Style and Analysis – by Bill Bachman
Jazz Drummer's Workshop: Bebop Pioneer Stan Levey
Focus on Unison Exercises – by Steve Fidyk
In the Pocket: The Commandments of the Half-Time Shuffle
Part 3: 10 Classic Tracks – by Zoro
Around the World: Samba Songo
Hybrid Grooves Blending Classic Brazilian and Afro-Cuban Patterns – by Peter Magadini
Samba Songo Demo MP3 | Samba Songo w/ Track MP3
Drum Soloist: Solid Soloing
Part 2: Changing Note Rates – by James Murphy
Concepts: Where's the Art?
Thoughts on the Current State of Affairs – Russ Miller
Equipment
Product Close-Up
• Craviotto Vintage Series Poplar Drumset
• Dunnett Classic Drums 2N Series Snares
Steel MP3 | Brass MP3 | Aluminum MP3
• Evans Heavyweight Series Drumheads
• Istanbul Agop 30th Anniversary Additions
Up-Tempo Example MP3 | Slow Blues Example MP3
• Off-Set Big Boy Bass Drum Pedal
Electronic Insights: Drum Miking 101
• Part 1: Single-Microphone Setups – by John Emrich
Click here for supplemental video content
Gearing Up
• Drum Wars' Carmine and Vinny Appice
New and Notable
DEPARTMENTS
AN EDITOR'S OVERVIEW
Shu in' by Michael Parillo
Readers' Platform
News
It's Questionable The Doctor Is In: How Do I Treat a Pinched Nerve?
Showcase Featuring Drum Market
Critique
Backbeats 2014 DCI World Championship Results
Kit of the Month Holiday Cheer
and more!