Jonathan Joseph: Tracking Soul Legend Betty Wright's <em>Living…Love…Lies</em>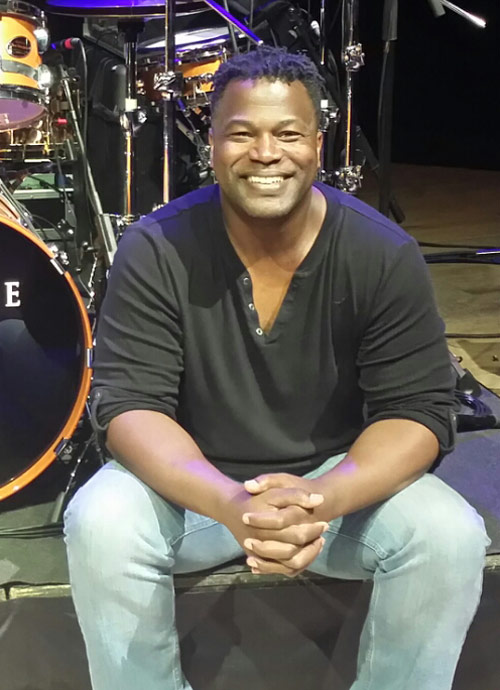 by Billy Amendola
Jonathan Joseph recently wrapped up his second tour with legendary guitarist Jeff Beck, a gig that you can read all about in the November issue of Modern Drummer magazine. Here we talk with Joseph, who's also singer Joss Stone's drummer and musical director, about his work with R&B singer Betty Wright, with whom he recorded the recently released album Living…Love…Lies.
MD: You've worked with Betty Wright for years, but how did this particular recording come about?
Jonathan: Let me start by saying that Betty is one of my closest friends. I'm always honored to play on anything she's involved with. When Betty's producer, Angelo Morris, asked if I was available to do a session, I wasn't sure what the project was, and, to be honest, it didn't really matter. Betty works with lots of artists in varying capacities. As a matter of fact, she was responsible for my meeting Joss. I rarely ask for details when she calls—I just say yes to whatever the project is.
Living…Love…Lies was recorded in two parts. We recorded "The Train" at Circle House Studios in North Miami Beach, Florida. I remember asking Angelo what type of groove they wanted. I could have used a modern, neo-soul approach, but Betty wanted to keep it more classic. Advertisement
Cutting the track was pretty straight-ahead. Angelo prepared a track for me to play along with, and he played bass while I cut the drums. This allows them to take the files back to their studio for further production while maintaining a live feel in the music. And that's basically the way we cut the majority of the songs.
MD: You went on to record more tracks.
Jonathan: Yes. The rest of the tracks I cut at David Nizri's Bunker studio in Fort Lauderdale. On "Love Lies," the Fender Rhodes, bass, and drums were recorded at the same time. Betty wasn't sure what type of groove she wanted on this one. [At one point] she mentioned a samba feel, and that gave me an idea of what she was looking for. We jammed for about ten minutes before Betty let me know that she liked the groove. The main groove on the track is not a real samba, but it does roll along as if it were one. And the bridge features a bit of reggae. I recorded that section twice, with two slightly different patterns, so that they could decide which one they liked best.
The track "Tired" is a beautiful ballad in 12/8. The approach here is complex in its simplicity. All I'm doing is providing a foundation for Betty to tell her story.
"Bodyguard" is my favorite track. The groove on that one is classic me—I absolutely love playing that. The tempo is 60 bpm, and it can be very difficult to play that slowly. Usually I'll change the click from quarter notes to 8th notes when I record any tempos under 70 bpm. I find that the added subdivision helps me to play a bit more consistently. The skip snare pattern just seems to give the groove an extra boost. I also play a few alternate bass drum notes that just kind of come out of nowhere. To me it's like being slapped on the back of the neck when you least expect it. You can really hear the raw drum track toward the end of the song, where it breaks down to just Betty and Rick Ross's voices and the drums. I think this is one of the funkiest ballads I have ever played. Advertisement
"Pirate's Chest" is a half-time groove with occasional tom fills dispersed throughout. I enjoy playing half-time grooves too. They're quite funky, and there's lots of room for exploration. I'm not doing too much exploring in this track, but I still enjoy keeping the groove.
MD: How would you describe your playing style?
Jonathan: My style is a mix of traditional jazz, gospel, rock, fusion, funk, soul, and West African rhythms, and over the course of my career I've had an opportunity to play with top artists in all of those genres. Recently I was asked which style of drumming was my favorite, but I found that question hard to answer because I simply love playing the drums and making music. My attachment isn't to one style of drumming; it's more to the act of drumming. As long as I'm working with people on the highest possible level, I'm happy.
Check out a clip of Jonathan Joseph talking about his upcoming instructional book, Exercises in African American Funk below (first video) . Watch  Joseph perform lessons from the book at Modern Drummer's blog page, here. For details on Jeff Beck's upcoming Live in Tokyo DVD, go to Amazon.com.  And to watch a clip of "Big Block" from the DVD, look below (second video).  For more on Jonathan Joseph, go to jonathanjosephdrums.com.
Advertisement
https://www.youtube.com/watch?v=q8lUZuePtUg&feature=youtu.be