Drummer Blog: Paul Amorese of goodbyemotel Talks New Single, Album, and Tour
https://www.youtube.com/watch?v=5z-gJMFI_AM&feature=youtu.be
Hi, MD blog readers! My name is Paul Amorese, and I am a professional drummer based in New York City and now a full-time member of the Aussie rock group goodbyemotel.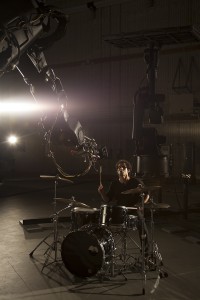 I grew up in Rochester, New York, and I owe a lot of my inspiration to drum corps and drummer Steve Gadd. In my career I have recorded and toured with different bands, such as Bryan Scary and the Shredding Tears, and had the opportunity to record on Roto's Magic Act album, where I had the privilege of sharing drumming duties with such legends as Shawn Pelton and Matt Chamberlain.
For the past year, I have been fortunate to travel the world performing in the US, Japan, Europe, and Australia playing music in which I have had the honor to collaborate with my new band, goodbyemotel.
goodbyemotel is an up-and-coming rock group from Melbourne, Australia with songs featured in 2013's Chrysler ad campaign, as well as placements on Gossip Girl, Suits, and Covert Affairs in the US. Earlier this year, our unique 4D Live Music Experience was featured on Rolling Stone.com's "Hottest Live Photos of 2014." Our new single, "Hurricane," has been showcased at the Adelaide Oval, where we were able to perform it in front of 50,000 people at halftime for an Adelaide Crows game. Advertisement
Among these achievements with the band, we are preparing to release our new full-length album, IF, on November 18. The album features the work of Grammy-award-winning producer Kevin Killen (U2, Peter Gabriel), engineer Andy Baldwin (Bjork, St. Lucia), and mix engineer Ken Thomas (M83, Sigur Ros). The band was fortunate enough to grab the attention of graphic designer Storm Thorgerson, whom is best known for his work on Pink Floyd's Dark Side of the Moon. Storm created a piece for the IF album art that would be one of his last, as he lost his battle with cancer in early 2013.
On this album, I recorded using a late-1960s Slingerland set with a Ludwig Black Beauty snare drum on all tracks. My cymbals are a mix between companies, including a 20″ Dream Bliss, a 20″ Zildjian Ping ride, a 20″ Zildjian Suspended, and Istanbul Agop OM hi-hats to round out a primal John Bonham, dark, and vintage sound.
Evans was kind enough to provide the best-sounding drumheads I have played on in years for most of our live tours in the US. I highly recommend them.
You can hear my drumming featured in the new single, "Hurricane," streaming at www.soundcloud.com/goodbyemotel.
For more on Paul Amorese and goodbyemotel, visit www.goodbyemotel.com and www.facebook.com/goodbyemotel.