The Loop Loft Releases "Joey Waronker Drums???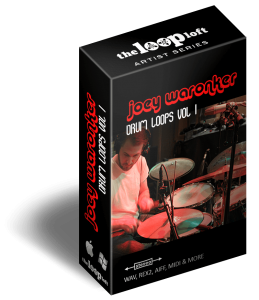 The Loop Loft announces the release of Joey Waronker Drums, a collection of drum loops, multi-tracks, samples, and MIDI featuring the legendary drummer and producer. From the folk funk of Beck, to the hypnotic grooves of Atoms for Peace, to the anthem rock of REM, Joey Waronker has supplied his signature feel to countless critically acclaimed artists.
"I've been a huge fan of Joey's creative approach to drums since I first heard him with Beck, and we're extremely excited to welcome him into the Loop Loft family of artists," says Loop Loft CEO, Ryan Gruss. "I believe we truly captured Joey's 'musical DNA' with this loop and sample collection. Producers and songwriters will instantly be inspired to create a wide range of music on top of Joey's drums."
Recorded in Los Angeles by Grammy-winning engineer, Darrell Thorp (Radiohead, Beck, Gnarls Barkley), Joey Waronker Drums features eight complete drum sessions that cover a range of styles and sounds including funk, Afrobeat, folk, dance, indie rock, and odd meters. Also included in the collection are over 340 beats, fills, and breaks, with a variety of tempos, beats, and genres. The Deluxe Edition offers fourteen channels of separate audio tracks recorded in 24 bit/96 kHz audio, allowing users to mix every element of Joey's drumkit, including kick, snare, toms, overheads, and a variety of room mics. The Deluxe Edition also includes loops in all stereo formats (REX2, AIFF, WAV, Stylus RMX), as well as MIDI, to utilize the beats in any DAW or loop plug-in. The Joey Waronker Drums collection lists for $49 (for 48 kHz stereo loops) and $79 (for 96 kHz multitrack loops). Advertisement
Visit thelooploft.com for more information.