Hena Habegger of Gotthard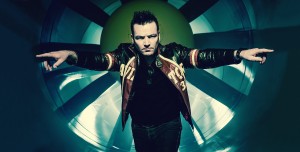 Hi, Modern Drummer readers! My name is Hena Habegger, and I've been the drummer of the Swiss hard rock band Gotthard for twenty-three years. After fifteen number-one albums in Switzerland, lots of chart successes, and releases in Europe, Russia, South America, and Asia, we are very proud to present to you our new album, Bang!, released by The End Records in the U.S.
I'd like to tell you something about myself, the equipment I use, and the recording session for Bang! As a nine-year-old I joined the Tambour Society in my hometown to learn the first rudiments. A short while after that I sat behind a drumkit, teaching myself how to play. I played along with albums of AC/DC, Judas Priest, and Led Zeppelin, among others, and tried to transpose it one-to-one, which sometimes worked out and sometimes not. 🙂
After a few experiences with local bands, in 1990 I decided to go to Los Angeles, where I studied at Musicians Institute. After graduating with honors, I went back to Switzerland, where I joined Gotthard. Since then we have played more than 2,000 shows all over the world, both as a headliner an in support of AC/DC, Deep Purple, Bon Jovi, Scorpions, and Brian Adams. Unfortunately we haven't made it to North America yet, but hopefully that will change now. Advertisement
My biggest influences are Phil Rudd, John Bonham, James Kottak, Gregg Bissonette, and Vinnie Colaiuta, to name but a few. My technique/style consists of always trying to play what the song requires as well as providing the band and the song with a firm base, like precision Swiss clockwork. Timing, dynamics, and a solid groove are the most important things to me. I'm quite a hard-hitting drummer, and that requires the right equipment. I play DW Maple Collectors series drums and 9000 series hardware, Paiste Signature Reflector cymbals, Aquarian New Orleans Special, Response 2, and Superkick drumheads, and Vater Power 5A sticks.
The recording for Bang! took place in the band's own Yellow House Studios in Lugano, Switzerland, with the supervision of co-producer/engineer Charlie Bauerfeind and co-producer/guitarist Leo Leoni. We completed the drum tracks for the sixteen songs in just ten days—relatively fast when you hear the end result. But with Bauerfeind being a drummer, I was in good hands. We knew exactly what we wanted and worked perfectly together. This album contains everything a drummer's heart desires: uptempo and midtempo rock tunes, groove/blues/boogie-oriented songs, ballads, and even a touch of country. With this idea in mind, get the album, have fun with it, and play along like I did when I was a youngster.
For more on Hena Habegger of Gotthard, go to gotthard.comp. Photo by Martin Hausler.