Drummer Blog: Kix's Jimmy Chalfant on His Early Influences and Approach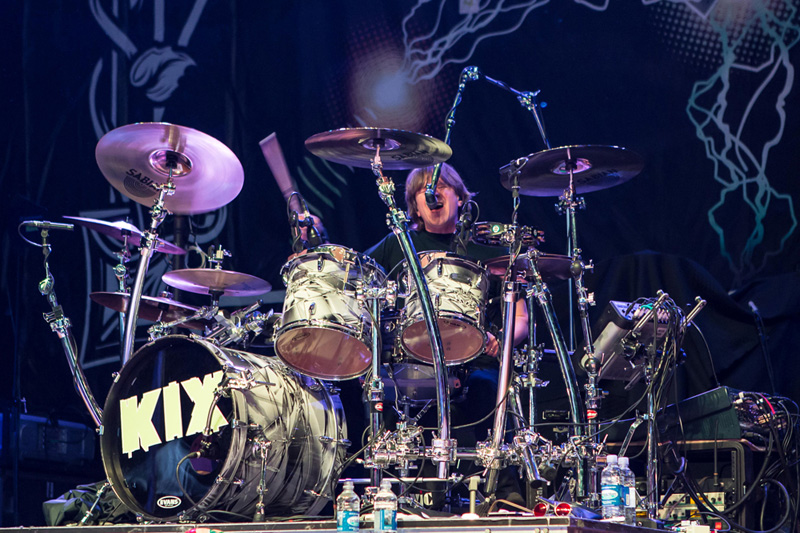 Hey there, modern drummers! My name is Jimmy Chalfant, and I play drums for the Baltimore hard-rock band Kix. I grew up with all types of music in my house, from classical to jazz, R&B, progressive rock, and everything in between. My parents both played violin and my two bothers played guitar in bands that practiced in our basement. Their bands would often leave their equipment at our house, so I would come home from school, jump on the drums, and start whaling away. This was the mid-'60s, the Beatles had just taken over in America, and soul and R&B, like James Brown, the Temptations, and Otis Redding, were big at that time.
My early influences on drums were Ginger Baker, Don Brewer, John Bonham, and of course that guy in that little band from Liverpool, Ringo Starr. I would spend hours listening to records and trying to copy every beat and every fill. I wasn't interested in learning rudiments and reading music from some book, I just wanted to play music the way it was recorded. When I couldn't play something just like the record, I would try to emulate the style the drummer was playing in a way that was more comfortable for me.
It wasn't until I discovered AC/DC that my approach to drumming would change forever. Phil Rudd, and Joey Kramer of Aerosmith, educated me and gave me a whole new appreciation of the concept of groove. Up until that point I was just playing beats and fills, flailing away without much thought about groove. I didn't have that internal clock that made everything flow. That was a big turning point in my drumming and has made me a much better musician. I'm much more aware of the space between each hit. It's an ongoing process for me with every performance and recording I do, including our latest album. Advertisement
Kix has recently released our latest studio CD, Rock Your Face Off,on Loud and Proud Records after almost twenty years since our last studio release. Recording a record this time around has been very liberating for us because we all had our say in the process. Whether it was in the writing, arranging, recording, or mixing, every one of us contributed more than just our performance to this record. In the past that was not always the case. We feel very proud of this record and hope you enjoy it as much as we enjoyed making it for you. So go check it out, rock your face off, and thanks for reading my blog.
For more on Jimmy and Kix, go to http://www.kixband.com.
photo by Marcy Royce