Drummer Blog! Eric Jackowitz on Playing Different Styles With Caleb Hawley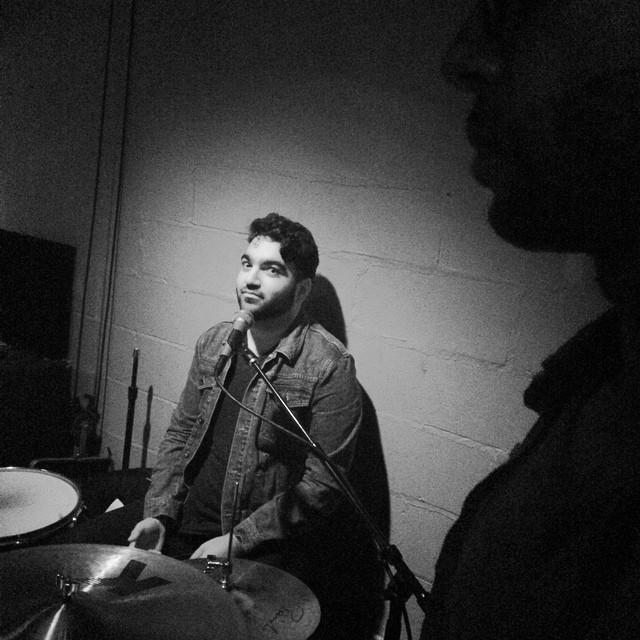 Hey, MD readers! As a longtime reader myself, I can't say how exciting it is for me to be writing this blog. I pretty much have every issue of Modern Drummer from 2000 to now, as well as the MDFestival DVDs.
I've been playing drums since I was two years old. I'm twenty-four now, so that makes my mental age about fifteen. I started on pots and pans and then graduated to a snare drum, which led to my first kit. I played in a lot of bands and took lessons while growing up in South Florida, and then went to Berklee College of Music (yes, I graduated, proving that the myth that you only get work if you drop out is false). After Berklee, I moved to NYC and have lived there for two years. I've been recording, touring, and playing local shows with a slew of different artists there, like Caleb Hawley, Nick Waterhouse, Suzanna Choffel, the Jacob Jeffries Band, Brian Dunne, and others.
I'm writing this in Columbus, OH, while on tour with Caleb Hawley. I started playing with him a few months ago and really love it. So far the tour has been fantastic. There's rarely a dull moment touring with these guys, and there's always a steady stream of podcasts and terrible fake band names that we come up with to keep ourselves entertained. Advertisement
Playing Caleb's tunes is a pleasure. The music has definitely evolved from his last record to his latest release, Side 2. The first record is more Motown-inspired, so for those songs I've been going for a Uriel Jones/Benny Benjamin/Homer Steinweiss vibe. His second record has a more funk/synth/Prince vibe, so I've been getting to let out my inner Ndugu Chancler/Steve Jordan/Questlove. I play a lot of different styles with a lot of different artists, so I'll take any chance I get to do my best impression of those guys.
I can't recommend Caleb's new record enough. It's refreshing to hear dance music a la Earth, Wind, and Fire and Prince in 2014 that holds its own alongside current electronic-inspired hits. Caleb's songwriting stands on its own and really elevates the music to another level. Another great element to this gig is playing live to clicks, loops, and samples. It definitely opens my mind on how to be tasteful and fit myself into existing parts. I've been looking to Beck's drummers Joey Waronker and Victor Indrizzo for inspiration in that area of playing.
The drummers I obsess over are Matt Chamberlain, Josh Freese, Dave Grohl, Steve Jordan, Questlove, Joey Waronker, Abe Laboriel Jr., Ringo, Ash Soan, and Rick Marotta. Anything they do is ground for endless study and inspiration. Thanks for reading! Advertisement
For more about Eric, go to www.ericjackowitz.com and check out Caleb's tour dates and music at www.calebhawley.com.