19th Annual KoSA Camp Delivers Clear and Straightforward Sentiment: "I Just Wanna Drum!???

The 19th KoSA International Percussion Workshop, Drum Camp, and Festival celebrated its annual week of intensive learning, living, and playing with internationally celebrated drum and percussion masters this past July in the serene mountains of Vermont. KoSA co-founders and directors Aldo Mazza and Dr. Jolán Kovács relayed a simple message to all attendees, which was this year's theme, "I just wanna drum!" This heartfelt and straightforward sentiment expressed to all the urgency to do what makes you happy in life.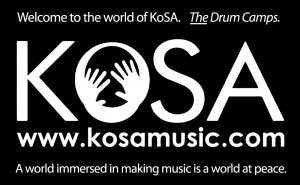 "Fulfill your lifelong dream and drum. You will have no regrets and will ultimately be living a happier and more productive life," Mazza and Kovács advised. Regardless of differences in ages, from as young as eight to experienced players of seventy years and more, attendees quickly bonded like family members. Attendees came from all around the world, including Nashville, Montreal, and Milan.
Brian Jones, a first-time attendee from New York, was blown away from the experience. He stated, "I now have a clear understanding why both faculty and students return every year. The level of instruction surpassed anything I was expecting." John Swiess from Illinois also attended KoSA for the first time, thanks to a generous gift from his wife. "I will never be the same," he says. "A life-changing event." Marcus Santos, KoSA faculty alumnus, fittingly summarized this year's experience, "KoSA is responsible for the best moments of my life in music and as a person." Advertisement
The nightly concerts of the KoSA Music Festival were streamed live in collaboration with Drum Channel (www.drumchannel.com). Approximately 20,000-plus viewers witnessed performances by KoSA's stellar faculty, which included Robby Ameen (Dizzy Gillespie), Sergio Bellotti (Berklee College), Chris Coleman (Prince), Dominick Cuccia (Fife and Drum), Mario DeCiutiis (KAT electronics founder), Frank Epstein (Boston Symphony Orchestra), Dom Famularo (drumming's Global Ambassador), Richie Gajate Garcia (Phil Collins), Jamey Haddad (Paul Simon), Jojo Mayer (Nerve), Aldo Mazza (Repercussion/KoSA artistic director and founder), Allan Molnar (Nelly Furtado), John Riley (Miles Davis), Marcus Santos (Brazilian master, Berklee College, Grooversity founder), Jeff Salisbury (University of Vermont), and Michael Wimberly (West African Drumming). The nightly performances also featured smoking-hot performances from KoSA's rhythm section, which comprised Irio O'Farrill on bass and Bob Quaranta on piano.
Continuing a long-standing tradition, KoSA awarded Lifetime Achievement awards this year to two very deserving KoSA faculty members, Richie Gajate Garcia and Jojo Mayer, a first-time KoSA faculty member who was completely surprised to receive such an accolade. Two newly established awards, KoSA's Recognition Award were also presented to Jeff Salisbury and Sergio Bellotti in acknowledgement of their tireless efforts in promoting music education.
KoSA continues to expansion with programs not only in the US (New York, Vermont, and Miami), but also in Cuba, Europe, and China.
For more information, visit www.kosamusic.com and facebook.com/kosamusic.