Ren Mathew of Bailiff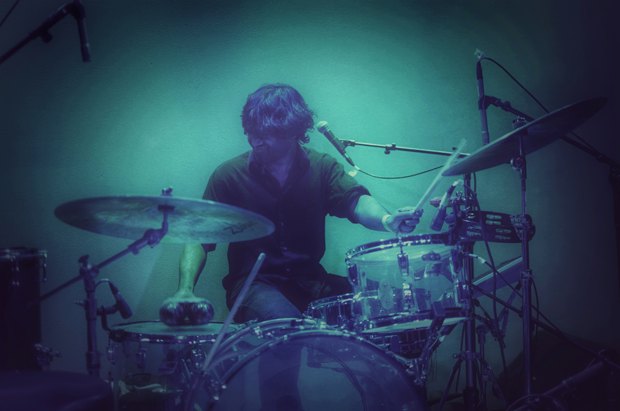 Hey, MD folks! It's Ren Mathew here from the band Bailiff. I'm based out of Chicago but am currently on the road with the band touring in support of our new release, Remise. It's a tremendous honor to be writing this entry, and I'm happy to share a little insight into my world.
I started playing music at a relatively young age, but the drums did not become my primary instrument until a little later in life. I actually spent my early musical years as a trumpet player. Though, even as I developed my chops as a horn player, I was fascinated with the drumset. In junior high, I played in the jazz band, and the drummer of the band was an early musical hero of mine. He was a natural musician, and I'd always ask him questions about the drums. One day he ended up giving me an extra pair of drumsticks, and that set the course for my path as a drummer.
Unfortunately, tapping on the furniture at home can only get you so far. Luckily, my older brother, Cherian, saw something in my pots-and-pans drumming and surprised me with my first drumset when I was fifteen. Without his initiative, I don't know if I would have made the shift into a drummer and I owe him everything for this. Advertisement
My approach to drumming has always been about feel and groove, and ultimately about being musical with the parts I write. On Remise, I also experimented with ways to add color and texture to a groove. I did this mostly through the use of percussion. For example, adding various tambourines to the hi-hat, and bringing those parts in and out of sections, can be a great way to increase intensity without necessarily changing the core beat. I also found it very effective to enhance a groove by substituting maracas for drumsticks. If you're curious, you can hear how this turned out in the songs "Love Like Mine" and "Helicopter."
I've played on various kits over the years, but the one I've fallen for is a '70s Ludwig blue Vistalite. I was always told that these drums can be pretty specific and one dimensional, but I've learned that they're quite versatile both in a live setting and in the studio. Aside from being easy on the eyes, the drums have a deep, rich tone. I tracked all of the drums on Remise using this kit, which consists of a 22″ kick, a 12″ rack tom, and a 16″ floor tom. Rounding out the Ludwig family is my blue/olive-badge 6.5×14 Supraphonic snare. I picked up this snare years ago and haven't found a reason to play any other. I have a pretty standard cymbal setup, currently using vintage 14″ Zildjian Quick Beat hi-hats, a 22″ Zildjian K Light ride, and a 20″ Istanbul Traditional thin crash.
I'm mostly self-taught, but have received valuable lessons over the years from a few masterful drummers, including Jeff Decker and Earl Talbot. From developing my rudiments to exploring different types of world drumming, I grew as a drummer from their teaching. But there is a certain kind of training that you can only gain by immersing yourself in music. For me specifically, it's been surrounding myself with excellent musicians—I'm constantly inspired by my band mates, Josh Siegel (guitar) and Owen O'Malley (bass), and their musicianship. I know I can take risks and experiment with tempo, groove, and time signature, and they're right there with me. Advertisement
For aspiring musicians, the only piece of advice I can give is to keep doing it. See as many live shows as you can, and if you see Bailiff coming through town, come by and say hi!
To watch a video on Bailiff, visit http://bailiffmusic.com/video.
Photo by Gunther Snaps Photography