Mapex "Over the Edge Tour??? With Russ Miller and Rashid Williams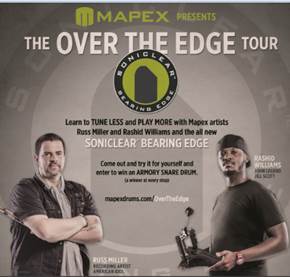 Mapex artists and staff members will be stopping in fifteen cities across the USA for the Mapex SONIClear "Over the Edge Tour." The tour is designed to allow players to experience first-hand the award-winning SONIClear bearing edge and the sound of Armory and Mars drumsets and Armory snare drums. Russ Miller (LA session artist) will be the host in seven of the events, while Rashid Williams (John Legend) will be hosting the tour in eight of the locations. In addition, a Mapex Armory Tomahawk snare drum will be given away at each stop.
"These fifteen events will be hands-on interactive, and those in attendance will have the opportunity to talk to the people and personalities behind Mapex, all of whom are drummers," comments Joe Hibbs, brand manager for Mapex.
All Armory and Mars drumsets have the new SONIClear bearing edge, which is designed to increase the contact between the drumhead and shell to allow the head to sit flatter on the edge. The result of the SONIClear bearing edge is said to be easier tuning and a stronger and more centered pitch. Advertisement
Armory and Mars sets offer a complete compliment of Armory and Mars hardware. The double-braced stands are heavy-duty but not overbuilt. This all-purpose hardware is available in packs or as individual pieces and comes in a choice of chrome or black-plated finish.
To find out the latest tour information, visit www.mapexdrums.comOverTheEdge.