John Fontana of the Futures League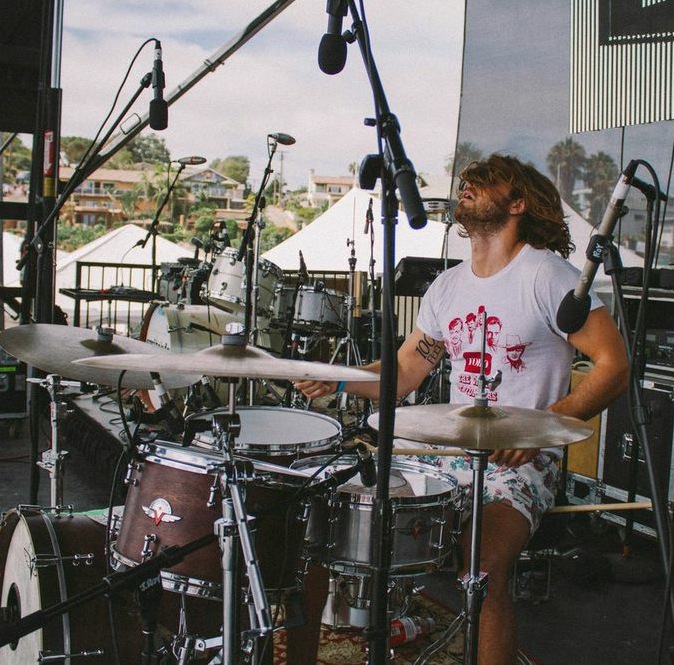 When I was twelve, my two best friends decided they wanted to perform as a band in our middle school talent show. The problem was that only one of us could actually play an instrument with any decency, and that person was not me. It was decided that I would learn the drums for the Weezer song "Why Bother," and I had about a month to figure it out.
My brother's friend leant me a terrible drumkit that he had lying around, and I quickly realized that I really had no idea what I was doing. A couple of suck-up-and-beg sessions later, and I found myself at my very first drum lesson. I walked out of that half hour with a couple practice sheets for the basic beats, but more importantly I knew that I really wanted to learn how to play the drums.
Luckily I managed to figure out the song enough to fool my classmates into believing I could actually play the drums, and the talent show was a success (although I think we got beat out by a kid that danced to a N'Sync song). The cooler thing was I realized that I was now in a band with some of my best friends. The drum lessons continued, and more Weezer songs were covered. I spent hours in my room with my headphones on trying to play along with songs from Zeppelin, Radiohead, Tom Petty, etc. Advertisement
Fast forward a little more than ten years, and I find myself in Los Angeles with the first drumkit I ever owned. A chance meeting while in Orange County for a surf trip led me to meet Jon Arman. A random text from him a few months later, saying "You said you play the drums, right"? ultimately became the start of the Futures League. Jon and Jack Rose met me at Cascade Rehearsals in LA one day, and we had our first of many jam sessions. A little later, Scott Ruth joined us on bass, and the bands lineup was set.
Last year we got linked up with producer/engineer Gus Seyffert, who is an absolute genius when it comes to gear. He has some amazing old kits and gets some of the best drum tones I have ever heard. Impressively, he usually only uses four mics on my kit, which is pretty sparse compared to most producers these days. (I've heard of bands using up to twenty-four mics for drums alone.) We recorded live at his studio in Echo Park, straight to tape. Our first EP with him, Don't Be A Drag, was released on June 10. You can make the decision on how you feel about the drum tones, but I couldn't be happier with the sound Gus got out of them. He makes me sound like a better player than I actually am.
For more on the band visit www.EnterTheLeague.com, facebook.com/TFLmusic, Twitter: @Futures_League and Instagram: @TheFuturesLeague.
To watch a video of "Women, Trials and Tribulations," look below or go to here, and for an in studio video, look below or visit here.