Jimmi Kane of Tempt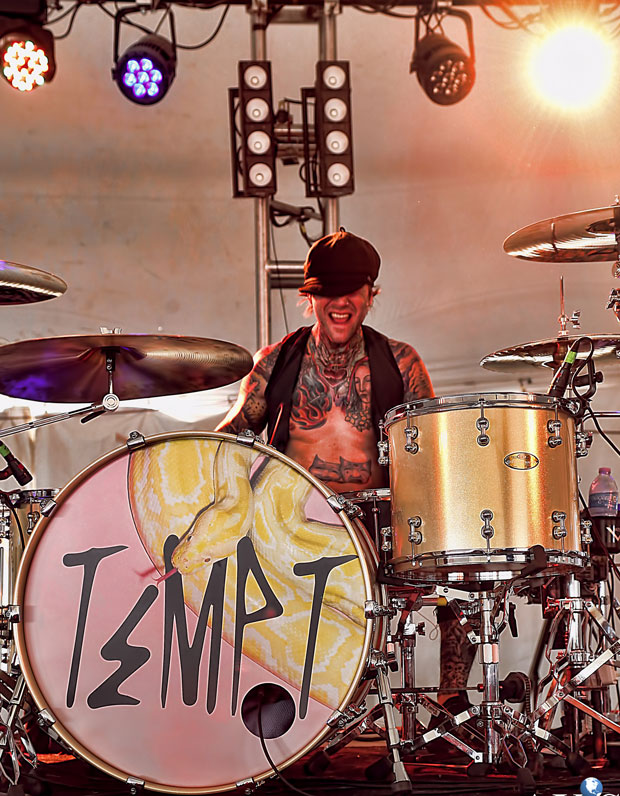 Hey, Modern Drummer readers! This is Jimmi Kane from the NYC-based rock band Tempt. We're coming up to the one-year anniversary of the band, and I thought that in my blog it would be interesting to give you the drummer's perspective for a new band trying to make it in the new music business.
We've done a lot in this past year, including completing our first album, which was mixed by Michael Wagener (Dokken, Ozzy, Metallica) and Mario McNulty (David Bowie), and making our first appearance at Rocklahoma.
My love of music and rhythm was apparent at an early age. I used to rock my rocking horse to the groove of Michael Jackson's "Beat It." I bugged my dad to play it over and over for me as I rocked away. My dad was an observant man and bought me a drumset. I'm a self-taught musician, and Ringo Starr, Tommy Lee, Travis Barker, Mitch Mitchell, and John Bonham were my teachers and influences. Advertisement
We all know that time is critical because we're drummers. However, you'd be surprised how many drummers can't play to a click. It's an essential skill and one that takes practice. With Tempt, we record to a click and play live to a click. It's imperative that I lock down the groove. It's equally imperative that my bandmates do also. There's nothing worse than feeling people you're playing with rushing ahead. I noticed that we are really locked as a band when everyone is tapping their foot or moving in some way to the beat of the music. So get your bandmates' feet tapping.
We just completed a leg of our tour, and it was an amazing time. We were able to connect with fans in many different cities. We're a four-piece with guitar, bass, drums, and vocals. We run some extra guitars and keyboards via computer using Ableton Live. As a new band, we often had no sound check. This is when rehearsal really pays off. It enables you to play through a bad monitor mix or other adversity and still be able to deliver a great show. We get one chance to make new fans, and we want every one to count. No matter what mayhem is happening on stage, good or bad, I know the tunes, and I'm locked in.
My equipment is really important to me. On tour I use a Pearl Masterworks kit in champagne finish, Ahead drumsticks, and a Kickport. A crucial part of my setup is my JH Audio in-ear monitors. Without them, I'd be unable to follow the click! Advertisement
We released a collector's-edition EP for our Rocklahoma appearance, and our first single, "Under My Skin," is available on Amazon and iTunes. After one listen, you'll find yourself tapping away on your steering wheel or rocking on your rocking horse.
For more about Jimmi Kane and Tempt, visit www.temptband.com, and facebook.com/temptband.