Drummer Ches Smith Taking Residence at the Stone in NYC Beginning September 30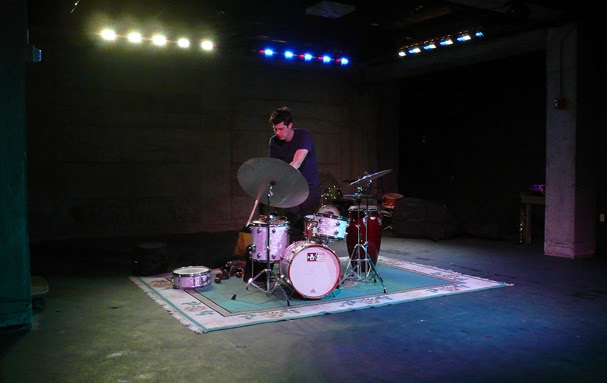 From September 30 until October 6, drummer Ches Smith will bring in different collaborators and projects, both long-standing and burgeoning, to the Stone in New York City.
In the past decade, Ches Smith has become one of the most in-demand drummers in New York. He has lent his unique style to bands led by Marc Ribot, Tim Berne, and Mary Halvorson, and he is an active collaborator with the bands Secret Chiefs 3 and Xiu Xiu.
Amidst all of his sideman work, Smith has also released a string of records under his own name, with his band These Arches, with the solo project Congs for Brums, and with his long-standing duo with Devin Hoff, called Good for Cows. During his week at the Stone, Smith will showcase a host of his projects as a leader, as well as present collective improvisatory music with some of New York's most exploratory musicians.
In the first evening of his residency, Smith will showcase his project We All Break, which synthesizes his serious study of Haitian Vodou drumming along with his creative music sensibilities. The following evening, Smith will play with his main compositional outfit, These Arches, which also melds otherwise disparate influences ranging from hard-hitting rock to melodic jazz. The quintet showcases the improvisational leanings of bandmates Tim Berne, Tony Malaby, Mary Halvorson, and Andrea Parkins. Advertisement
Throughout the rest of the week, Smith will place himself alongside Matt Mitchell, Tyshawn Sorey, Nate Wooley, Jonathan Finlayson, William Parker, Randy Peterson, Craig Taborn, and Marc Ribot.
Ches Smith's Week at the Stone
(Sets begin at 8 pm and 10 pm)
9/30
We All Break: A meeting of Haitian Drums and Creative Music. Matt Mitchell (piano) Daniel Brevil (traditional Haitian percussion), Markus Schwartz (traditional Haitian percussion), and Ches Smith (drums, percussion)
10/1
These Arches with Tim Berne (alto sax), Tony Malaby (tenor sax), Mary Halvorson (guitar), and Andrea Parkins (accordion, electronics)
10/2
Ches Smith Quartet with Craig Taborn (piano), Jonathan Finlayson (trumpet), and Stephan Crump (bass)
10/3
Congs for Brums: A night of solo music for drums, vibraphone, and electronics
10/4
8 pm set: Matt Nelson (tenor sax), William Parker (bass), and Ches Smith (drums)
10 pm set: Tyshawn Sorey (drums, trombone, piano), Randy Peterson (drums), and Ches Smith (drums)
10/5
8 pm set: Wooley Fin, featuring Jonathan Finlayson (trumpet), Nate Wooley (trumpet), and Ches Smith (vibraphone, timpani)
10 pm set: Ceramic Dog, featuring Marc Ribot (guitar, vocals), Shahzad Ismaily (bass, electronics, vocals), and Ches Smith (drums, electronics, vocals)
The Stone is located at the corner of Ave C and 2nd Street in Manhattan.
"Ches is one of the best drummers I've ever worked with—not just a drummer, but a composer and a musical thinker." —Marc Ribot
"Since he moved to Brooklyn in 2008, Smith has continually stretched the parameters of the jazz idiom, straddling the musical spaces shared between his jazz heroes and free improvisation, modern classical music, experimental rock and noise." —JazzTimes Advertisement