World's Fastest Drummer Contest Heats Up Summer NAMM Show
WFD-World's Fastest Drummer, Extreme Sport Drumming events held its fifteenth annual competition at the past Summer NAMM Show in Nashville, Tennessee. The WFD competition consists of two categories: Battle of the Hands™ and Battle of the Feet™. The preliminary heats were held on July 17 and 18. The top ten Fastest Hands and top ten Fastest Feet then stepped into battle at WFD Finals on Saturday, July 19.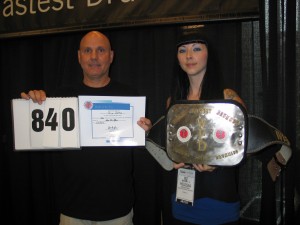 Included in the event were technical demonstrations, insight sessions and appearances by past WFD champions and world record holders Matt Smith, Eric Okamoto, and Randy Briggs. Eric Okamoto holds several WFD world records including ratamacue, 7-stroke roll, paradiddle-diddle and multiple stroke roll categories.
The Battle of the Feet winner, with a score of 840 singles, was Perry Dattilo (pictured left with "Miss WFD" Melissa Mabry) of Robards, KY, second place was earned by Evan Lane of Muscle Shoals, AL with 817 singles. Third place was won by Isaac Harris of Johnson City, TN with 802 single strokes. Advertisement
The Battle of the Hands winner was Peng Wang, (pictured right) of Beijing, China with an amazing 1049 singles in 60 seconds. Braxton Burke of Langley, KY placed second with 1003 strokes, and Battle of the Feet winner Perry Dattilo placed third with 930 single strokes.
Grand prizes were provided by: Pearl, Sabian, Remo, Vic Firth, Axis, Modern Drummer, Alfred Publishing, and Drumometer.
For more on WFD and upcoming events please visit www.WorldsFastestDrummer.com or email Info@WorldsFastestDrummer.com.