Win One Of Two Scholarships To The Triple Threat Drum Camp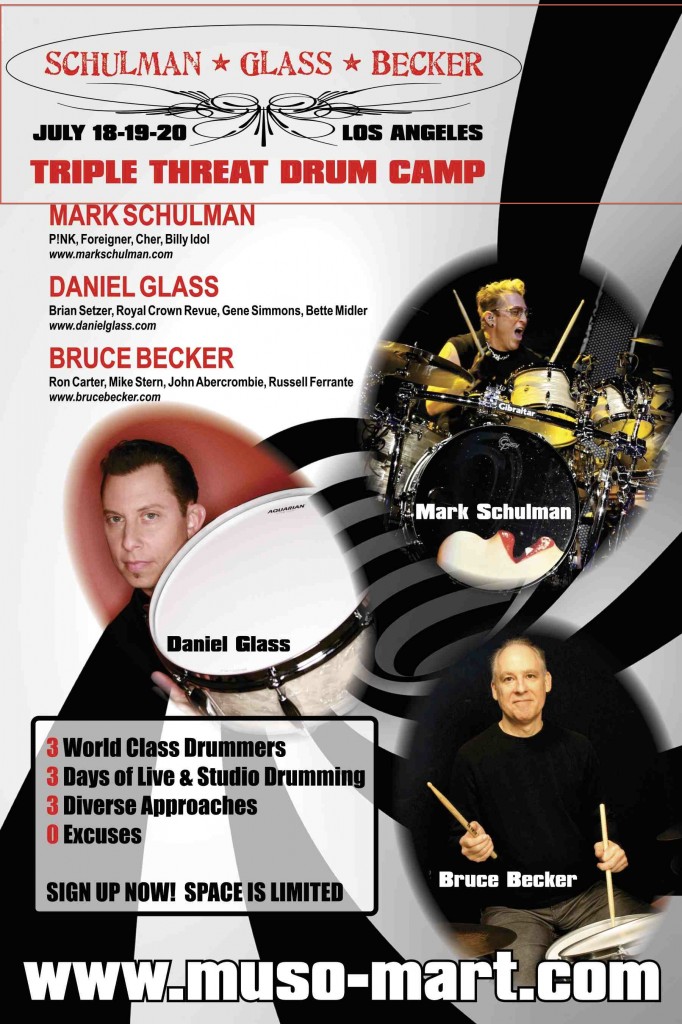 Hosted by Mark Schulman, Daniel Glass and Bruce Becker
Submit a Video Now Telling Why You Should Attend the Exclusive Three-Day Event Hosted July 18th – 20th at the Hilton Hotel in Woodland Hills/Los Angeles
Two worthy students will have the chance to attend the Triple Threat Drum camp hosted July 18th – 20th at the Hilton Woodland Hills/Los Angeles by world-renowned drummers, educators and authors Mark Schulman (P!NK/Foreigner), Daniel Glass (Brian Setzer/Bette Midler) and Bruce Becker (Mike Stern/Ron Carter). To enter to win one of the two available scholarships to the Triple Threat Drum Camp, simply shoot a short video telling why you deserve to attend! Contest ends July 12th. Prize includes full tuition to the camp courtesy of Mrs. G's Music Foundation. Launched in 2010 by Gretsch Company CFO Dinah Gretsch, Mrs. G's Music Foundation with the goal of helping keep music education in schools and supporting various music events and artist in residence programs. To register, submit your video now at http://bit.ly/1qF6qCr
Students at the Triple Threat Drum Camp (TTDC) will have a chance to go home with more than just improved drumming skills and memories of an once-in-a-lifetime opportunity to study alongside three of the world's top drummers! The TTDC will be giving away a 6 x 13" Mark Schulman Signature Snare from Gretsch (MSRP $535.99); a 15" AAX-Xplosion Crash Cymbal from Sabian (MSRP $185.00),a DW 5000 Series Pedal (MSRP $333.99); a 20" Vanguard Ride Cymbal from Crescent Cymbals (MSRP $655.00) and the DrumChannel.com, "Ultimate Drum Trivia" board game from Rock Science and pairs of Vic Firth Signature Sticks among other exciting giveaways.
At the TTDC, a limited number of students will enjoy the opportunity to play with, and learn from three of the world's most experienced, educated and passionate drummers in an ultra-intensive, intimate classroom setting — as well as experience a full day in a professional recording studio. For two, eight-hour days, student play along with the instructors on individual practice drum kits allowing for an incredibly intense, hands-on educational experience that guarantees results. Students will also have the opportunity to receive a day of playing time analysis in the world-famous Drumchannel.com recording studio! Advertisement
All students of the legendary Freddie Gruber, Schulman/Glass/Becker offer up a unique program that will cover such various topics as:
–    Technique: Quarter Note Pulse
–     Evolution: History of the Rhythm Section
–     Understanding Shuffles
–     Preparation: The Big Picture
–     Nerve Breakers: Conquering Life's Stage Fright
–     Drum Recording Seminar: Tuning, Technique, Charting, Micing, Processing, Interfacing, Editing
–     Hand and Bass Drum Technique
–     History of Freddie Gruber Approaches and Technique
–     Specific Jazz and Rock Technical Analysis and Execution
Mark Schulman:
For over 26 years, Mark is the "first call" drummer for world-class rock and pop artists. Having finished his third record-breaking world tour with P!NK, Mark recently joined Cher for her "Dressed To Kill World Tour 2014."  Mark's resume reads like a "Who's Who" of international rock/pop royalty including: Billy Idol, Foreigner, Sheryl Crow, Stevie Nicks, Velvet Revolver, Simple Minds and Beyonce among others. Mark was voted 'Top 3 Pop-Rock Drummers' in the 2014 Modern Drummer Reader's Poll and his new book, Nerve Breakers: Conquering Life's Stage Fright is a must-have book for anyone who wants to transform performance anxiety into the confident peak performance.
Daniel Glass:
Daniel Glass is one of the foremost authorities on classic, American drumming. He has recorded and performed with a host of topflight artists, including: Brian Setzer, Royal Crown Revue, Gene Simmons, Bette Midler, Liza Minnelli and Mike Ness from Social Distortion among others. Daniel is also an award-winning author, clinician and educator. He has written five books, including Roots of Rock Drumming (with Steve Smith). His DVDs, The Century Project and TRAPS recently topped the Readers Poll awards in both Modern Drummer and DRUM magazine. Daniel has performed more than 250 clinics across the world, including stints at prestigious festivals like PASIC and the Modern Drummer Festival. www.danielglass.com
Bruce Becker:
As an educator, Bruce has drawn from his more than thirty year association with drumming guru Freddie Gruber carrying on the torch of a unique approach to developing students' understanding of the natural principles of the physical body's interaction with the drum set. He debuted his educational DVD Concepts and Philosophies in 2013 and his new book, Odd Time Studies is scheduled for release this year. Bruce has taught drummers such as, Mark Schulman, Daniel Glass, David Garibaldi, and Tony Arco. Bruce has performed master classes and workshops in music conservatories and schools in the USA, Germany, Italy, Belgium, Austria, the Netherlands, Latvia, Moscow, Argentina, Uruguay and Australia. www.brucebecker.com Advertisement
For more information please visit and to register for The Triple Threat Drum Camp, please visit www.muso-mart.com.