The Stickman Drum Experience and the Regina Drum Festival's Jayson Brinkworth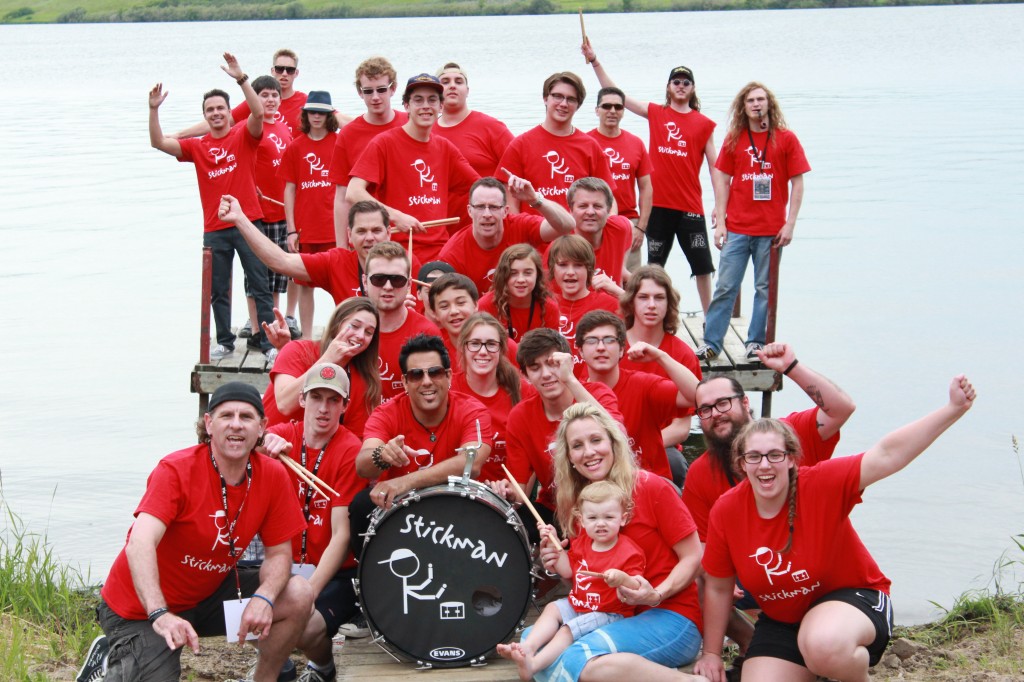 Hi, MD readers! Jayson Brinkworth here from the Stickman Drum Experience and the Regina Drum Festival. So far, 2014 is shaping up to be an unreal year for our drum events here in Canada and for my own teaching and playing career. We recently wrapped up our third-annual Stickman Drum Experience camp, which took place July 2–6, and I thought it might be fun to step you through the event day-by-day.
Set up began on June 30 this year, as I was travelling for a gig on July 1 (Canada Day). Our team of George, Julie, and Chris Dimas arrived on July 1 to set up some practice rooms, hang banners, and get prepared for the next day.
July 2 started off with me flying in from a gig and heading straight to Long and McQuade music to grab three acoustic kits (one for Gerald Heyward, one for Damien Schmitt, and one for a practice room), along with five Roland electronic kits (one for Flo Mounier and four for practice rooms). Advertisement
Once we got the drums out to the site, George Dimas headed to the Saskatoon airport to pick up our first two artists, Damien Schmitt and Flo Mounier. Also, our video crew, headed up by Cam Patterson, arrived from Winnipeg to set up and shoot the event.
Once attendees started arriving, they checked into their rooms, met some drummers that would become new friends, and headed directly to a practice room. Just as in other years, the favorite practice room is the deck looking over the water where students get to play on my '60s Ludwig kit.
After the first of many amazing home cooked meals, we were ready for the opening of the event. With a few words from myself, we gave away the first of many prizes and kicked off things off with a Roland drum jam that lasted for over an hour. Advertisement
When the jam winded down, the practice rooms filled up again while others helped Flo set up his Roland kit, and Damien change heads on his acoustic kit to get ready for July 3. Once the drums were ready, everyone headed to the main room to hang with Flo and Damien and ask questions.
July 3 started off with breakfast, a few more prizes, and then ninety-minute master classes with Flo and Damien. After the first class finished, everyone had a bit of practice time before the groups switched for afternoon classes with Flo and Damien.
While these classes were in progress, George Dimas headed back to the airport to pick up our next artists, Gerald Heyward and Dafnis Prieto. Our afternoon classes wrapped up, our new artists arrived and got settled into their rooms, and we started getting our main room set for the evening performance/clinics with Flo and Damien. Advertisement
We also had a performance by über-talented up-and-coming drummer Chris Dimas, who was joined by guitarist Gage McGuire to play some tunes from their band, Bermuda Love. Chris also played along to a few songs and explained his approach to the parts. Once Flo and Damien's clinics ended, the practice rooms filled up again and some attendees helped set up for the next day with Gerald and Dafnis.
July 4 started with some excitement as we woke up to a power outage at the lodge. As there is so much natural light in the main room, Gerald Heyward taught his first class with no issues. Dafnis's teaching room was a different story, as there were no windows. So we did the logical thing and moved his classes outside overlooking the water.
After the first classes wrapped up, students anxiously headed to the practice rooms to work on new grooves and ideas. Although the power was back on by lunch, Dafnis and the students insisted that his afternoon class be outside. Advertisement
While the second classes of the day were in progress, George Dimas headed to the airport to pick up Rich Redmond. Once we got Rich, Gerald, and Dafnis set on stage, there was time for more practice, hang time on the deck, and supper before the three clinics planned for that night.
First up was Rich Redmond's very inspiring "Crash Course for Success" presentation, which included some amazing info on his career and what skills are required to work at a high level in the music business. Dafnis Prieto was up next and stepped us through his approach to the drumset in Latin and other music. Everyone was in awe of his musicality and technique. Gerald Heyward then hit the stage, ran us through his career, and played to tracks by different artists. Gerald's commitment to groove, as well as his amazing right-foot technique, had everyone's jaws dropping. Afterwards, the three artists played together, and there were some very magical moments. The energy in the room was amazing, and everyone was feeling inspired.
On July 5, all attendees met in the main room for a great class with Rich Redmond that covered many different styles of playing. Rich also played to tracks by Jason Aldean and Thompson Square, showing us why he is in demand for his energy, tone, and super-consistent playing. Advertisement
For the last class of the day, bass player Rob Dakiniewich and I taught a lesson on the art of listening. Rob is a monster with loop pedals, and we played along to a few of his compositions. I explained to the students that I have never heard these songs and would be hopefully making the most musical decisions on what to play as the songs were unfolding. After some playing and talking, students had a chance to sit in with Rob. They all had a blast but realized that the importance of listening and playing in time took much more priority over drum licks. Rob and I wrapped up the class with a couple of songs from a release that he and I co-wrote and produced for my wife, Laura Roddick.
As we prepared for the evening concert, the house band laid out the set list, and the drummers came up and signed their name beside the song they wanted to play. The show comprised thirty-two songs, and Rich Redmond treated the crowd to a few Jason Aldean hits. The night finished off with a spectacular sunset just as the band finished the last song.
A huge thanks goes out to all of the companies for their support, the guest artists for their time and inspiration, and to the attendees.
See you all next year! Visit www.stickmandrumexperience.com for all the information and registration process. Thanks for reading!
For more on Jayson, visit www.jaysonbrinkworth.com.