PMC Provides Free Drum Lessons at Vans Warped Tour Summer Concerts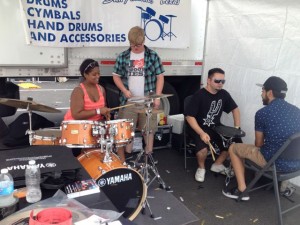 For the fifth consecutive year, the Percussion Marketing Council (PMC) and local music retailers once again provided free first drum lessons at its Lesson Lab Tent in the following cities on the popular Vans Warped Tour: Houston, TX (June 13), San Antonio, TX (June 14), Albuquerque, NM (June 17), and upcoming stops in Mansfield, MA (July 10), Camden, NJ (July 11), Wantagh (Long Island), NY (July 12), Hartford, CT (July 13), Cincinnati, OH (July 16), Milwaukee, WI (July 30).
The self-contained educational Play Drums tent put drum sticks in the hands of more than 60 first-time drummers during each stop of the tour where the Lesson Lab set up shop. Each tent is fully equipped with an acoustic or an electronic drum set, including cymbals and sticks, to provide a positive and professional learning experience for first-time players. Many drummers from performing bands stopped by the PMC tent to help generate excitement for the project.
"We have seen a surge of interest from concert-goers at every city where we participate," said Billy Cuthrell, a PMC advisory board member who coordinates the Lesson Lab Tent. "The key to our program is partnering with local percussion stores that also offers drum lessons. The store operates and coordinates the tent's operations with one or more of their drum teachers conducting the free lesson." Advertisement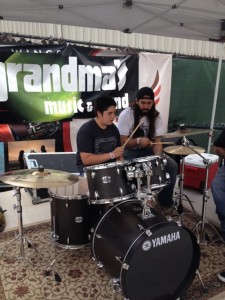 This summer, the PMC estimates it will provide over 700 free drum lessons during the tour and several percussion retailers from previous years have returned even more excited and committed to project. This year's retailers include: Cymbal Fusion (Houston, TX); Jeff Ryder's Drum Shop (San Antonio, TX), Grandma's Music (Albuquerque, NM), 247 Drums (Winchester, MA), The Laboratory (Deptford Township, NJ), Long Island Drum Center (Plainview, NY), Dynamic Percussion (Manchester, CT), Willis Music Centers (Cincinnati, OH), White House of Music (Waukesha, WI).
Members of the PMC include every significant manufacturer, distributor, publisher and percussion-education organization in the United States. Drawings have been arranged at each PMC Tent location for a drum lesson participant to win a 16-inch cymbal donated by Zildjian, Sabian, and Dream Cymbal.
Complete coverage of the events and specifics on the PMC Lesson Lab Tent locations will be made available through the PMC's new website, www.PlayDrums.com.
Pictured at top: PMC Lesson Lab Tent with staffing from Jeff Ryder's Drum Shop in San Antonio, TX. Pictured above: Grandma's Music hosted the PMC Lesson Lab Tent at the Vans Warped Tour Albuquerque, NM stop. Advertisement