Pete Costa of Torrential Downpour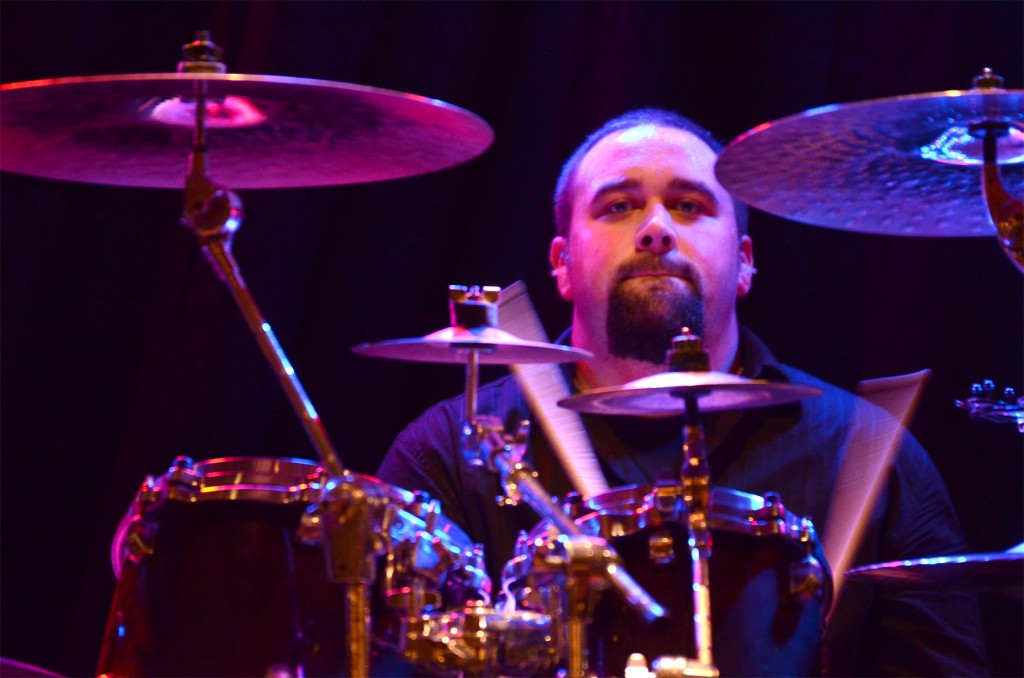 Greetings, Modern Drummer readers and fellow drummers! Pete from Torrential Downpour checking in. Thank you for giving me a few minutes of your time. This past year has been quite a ride for us. We found ourselves playing in Germany at the Euroblast Festival as well as countless shows around our part of the country, writing, recording, and releasing our new album, Truth Knowledge Vision. This was truly a labor of love for each of us, and it has been one of the most rewarding experiences I've had as a drummer.
For this album, which we recorded with our close friend and producer Kevin Antreassian at Backroom Studios here in New Jersey. I used my Tama Starclassic Maple kit, which has two 22″ bass drums, 10″, 12″, and 13″ rack toms, and 16″ and 18″ floor toms, all held together by a Pearl rack that's affectionately called the Arsenal. I put fresh Evans heads on them, played them a few times to really break them in, and tuned them up in the live room to get optimal sound for that scenario. Man, did they sing! The sound we got out these drums in that room was huge in body, but focused in attack. Scott Moriarty, our engineer, did a top-notch job with us, getting the sound that was just right for this. We only needed to put a towel in bass drums to eliminate overtones, and we isolated them by creating a shell around the drums and mics with blankets. This made it easier to fine-tune the sound in mixing and not have bleed from the other drums and cymbals.
I used a few different snares on this record, depending on the song and certain parts within songs. Besides my Tama G-Maple, I used my friend's Yamaha Oak Custom, a brass DW, and a GMS that Kevin had in the studio. We didn't know what type of wood the GMS was, but this snare was a cannon! The reason I decided to go this route and use various snares instead of just one, which I have done on our previous albums, was for texture. Certain songs called for different snare tones, and having this palette at my disposal, changing them in and out really added depth and breathed life into these songs.
Another level of texture, naturally, are cymbals. I used almost all Zildjians—18″ and 19″ Z3 crashes, a 21″ Mega Bell ride, 14″ Z Custom Mastersound hi-hats, 18″ and 20″ Oriental China Trashes, and an 8″ A Custom splash. I like how these cymbals are bright but have a very full sound, especially for how thick they are. When I lay into them, and I hit pretty hard, they really open up, and their sustain really fills out the music. They really blend well with the thinner, brighter Chinas. I also used a Sabian 21″ HHX Dry ride as a crash-ride. It was one of Kevin's cymbals, and the dry, earthy tone was a perfect fit. Along with these I have a bell from Turkey that was purchased by my parents from a cymbal maker in a bazaar while they were on vacation there. This is also my live cymbal setup, except that I also have a 20″ A Custom Ride that I use as a crash-ride; it has become my new favorite cymbal. It's deceptively versatile because of its size, but the range I get out of it is amazing. From soft accents and ride patterns to raucous grooves, this cymbal is right there.
Now, I don't always use my entire setup when playing in a live situation. I understand that most places we play have smaller stages and not much "set up" space, and the shows might have tight turnover times between bands, so I use my "sport kit." I take one bass drum and my Iron Cobra double pedal, two toms on a stand, one or two floor toms, and I use cymbal stands coupled with clamp-on stands. There are some clubs that I will use my full kit, but that is only if I'm familiar with the venue and know that there is enough room and time to set up.
Thanks again for reading this. It is truly an honor to be able to contribute to this fantastic resource for drummers. Check out Torrential Downpour's new album, Truth Knowledge Vision, out now.
For more with Pete Costa and Torrential Downpour, go to torrentialdownpour.com,  facebook.com/TorrentialDownpourNJ,  twitter.com/TRNTLDWNPR, or youtube.com.