Kevin Bowers of the Feed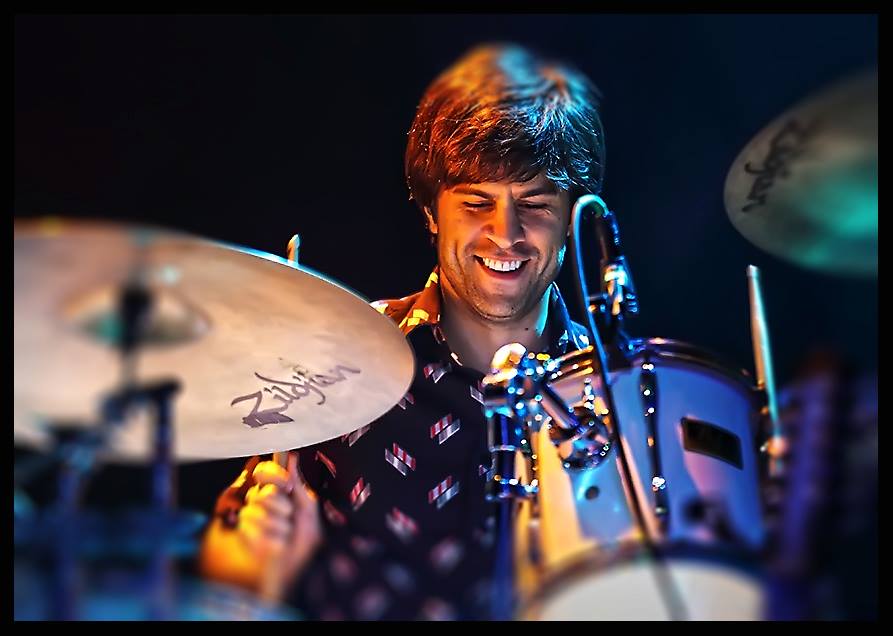 Hi, MD readers! My name is Kevin Bowers, and I play drums in soul-punk band the Feed.
The first drumset I owned was a Diamond Rock from JC Penney. My parents had to constantly replace the paper-thin heads because I was fervently trying to play the Police's "Message in a Bottle." Stewart Copeland's style—the syncopated beats, the astounding flam and splash accents, the creative uses of reggae and punk alongside his classical approach—altered the arc of my life. When I was old enough to get my own dog, I named him Copeland.
At the age of six, I started lessons at Drum Headquarters in St. Louis, Missouri, with the talented Rusty Parker. Rather than focusing on rudiments as a kid, I insisted on bringing in cassette tapes of different songs to play. Rusty allowed me to learn through the labor of love and not by the book. I guess you could say I had to tend my own fire before I got into the technical side of things.
It wasn't until high school jazz band that I began focusing more on reading music, hand technique, and soloing. It was during this time I first saw a video of Buddy Rich. I had never seen a left-hand roll on a snare drum played with so much precision, power, and speed before. I still haven't to this day. His epic, fiery solos will always guide my approach. Advertisement
Kevin Gianino, a St. Louis jazz icon, helped me tackle big band charts, and he gave me the discipline to listen to what the other musicians were playing. His vital wisdom prepared me for the Musicians Institute in Hollywood, California. There I studied everything, developed better posture, became much more efficient with my practice time, and learned to treat every live or studio project as if I were performing with my heroes. Never have I underestimated the importance of preparation. Feeling prepared allows me to break the rules and improvise a little more.
Tony Williams is an improvisation master, an inventor, someone who drums in a different language. His ride patterns are so fast yet with such clarity and his 4/4 on the sock (hi-hat) cymbal…. It's drumming at its highest level. Tony inspired me to be more fearless and to fill every corner of the room every time I sat behind the kit.
It's one thing to have heroes to revere, but it's another to actually play with the musicians who inspire you. That's what I get in the Feed. Meeting Dave Grelle (keys and vocals), Ben Reece (saxophones and bass), and Jordan Heimburger (guitar) altered that arc again. Being in a band with such heavy-hitters forces you to stay at the top of your game. Advertisement
A Pearl Export was my main kit for shows and recordings for over twenty years. Recently, though, I purchased a vintage 1958/'59 Slingerland blue sparkle drumset with a matching Radio King snare drum. I am really enjoying this purchase. The Feed has a new album coming out on August 5, so that means we'll be touring all summer. I'll bring the Slingerland, not the Diamond Rock this time. Hope to see you there!
For more on Kevin Bowers and the Feed, go to thefeedband.com.