Product Close-Up: Istanbul Agop Xist Series Additions (From the August 2014 Issue)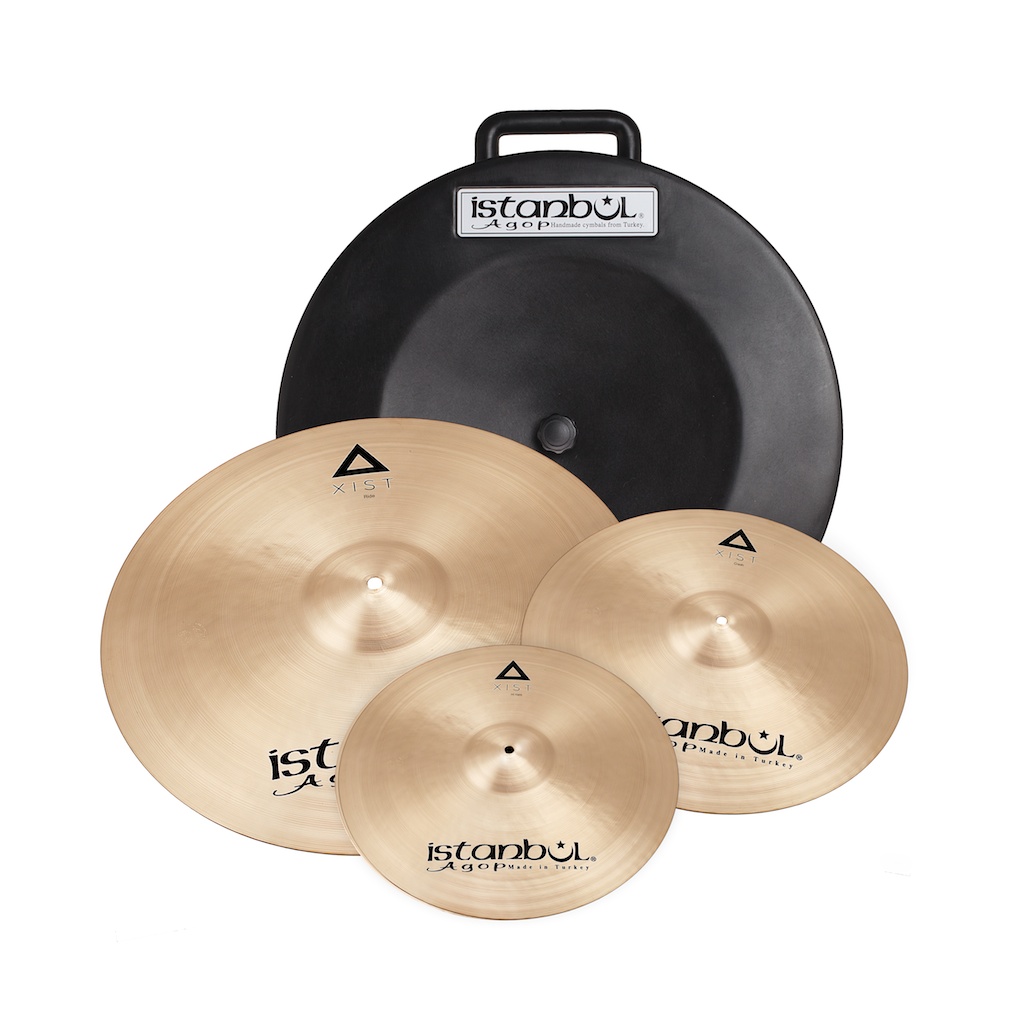 by Colin Woodford
The description on the Istanbul Agop website for the Xist cymbals in this review states that they are "a more modern take on traditional Turkish cymbalmaking." With modern, the company is referring in part to the pin lathing on both sides of the cymbals. The pattern is tighter than what the company uses in other lines. The other modern element is in the hammering, which is handled by the cymbal-making equivalent of a sewing machine, with a craftsman controlling the strength and speed of the hits. This adds to the focus of sound and consistency for each cymbal in the Xist line.
24″ Ride
Weighing in at just over seven pounds, this is a beefy ride. While it could be played lightly to great effect, it was most at home in medium-loud environments where I could put some weight into it. There's a lot of metal to move, so sticks with less heft than a 5A will have a hard time making the cymbal speak. It's a very contemporary-sounding ride cymbal, whether you're playing a consistent pattern at a medium-slow tempo or executing more intricate figures. It had enough attack to project and enough body to sound interesting to the ear. Somewhat surprising for its size, the 24″ Xist got out of the way fairly quickly when given a mighty wallop. It didn't choke or swallow itself, and the aggressive highs decayed quickly into a low wash. This cymbal also felt good to play, giving back at least as much as I put into it.
22″ Crash
This is a thin crash, but I found it to be highly playable in very different situations. When struck softly it offered a warm wash suitable for delicate passages. Then, when I really whaled on it, it had an explosion reminiscent of the amazing tones heard on classic rock and jazz records where they used one overhead mic. It's not a fast crash; it's going to decay audibly for a bar or two. Riding on it loudly and quickly will eventually get muddied as the low end builds up into a crash. The tight lathing of the 22″ Xist gives it great clarity of tone, regardless of where you strike it or what you strike it with, and the cymbal recorded beautifully.
15″ Hi-Hats
The trend toward larger hi-hats is a welcome one as far as I'm concerned, but once you get up to 16″, it can sometimes be difficult to play quicker flourishes and articulations. The medium-weight 15″ Xist hi-hats provided a pleasant middle ground. They were bright and quick while also having a big, broad wash. They fared equally well with a big band and a heavier rock band. (I would love to try these in a thinner weight.) As an experiment, I added small strips of tape on opposite edges of the top cymbal to dry out the sound, and a bit of the brightness was replaced by some nice grittiness. Additionally, when I played with the tip of the stick close to the bell, I got a great funk hi-hat sound, à la R&B master James Gadson.
To check out the 24″ ride, 22″ crash, and 15″ hi-hats, click below (or click here).
10″ Brilliant Ion Hi-Hats
These little saucers were fun as hell—loud and trashy yet extremely clear. They were designed to sound digital, like an 8-bit sample. While I think they met that goal, they could be useful in any genre, especially as auxiliary hi-hats. Even as primary hats next to the 22″ and 24″ Xists, the Ions held their own in volume and offered the cohesion you'd expect from cymbals in the same series. Because the cymbals are small, you can get a remarkably consistent attack in volume, tone, and sustain.
To check out these funky 10″ hi-hats, click below (or click here).
Conclusion
These Xist cymbals are definitely within the same family, but each is versatile enough to function very well in less homogenous setups that combine rides, crashes, hi-hats, and effects from different series. They are a welcome entry in the world of non-genre-specific modern cymbals. We encourage you to seek them out and give them a try. Just be aware that the 24″ model will likely require a larger cymbal bag, like one that Istanbul Agop offers.