Terry Bozzio and Universal Percussion's Tom Shelley Tour the South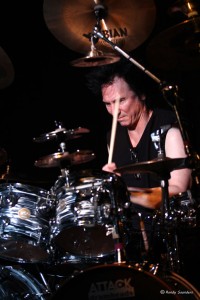 Terry Bozzio joined Universal Percussion president Tom Shelley this past February and March for their third joint clinic tour.
After covering a good chunk of the Eastern US last fall, the duo performed at venues throughout the South. Their first stop was Kenner, Louisiana, where they appeared at Ray Fransen's Drum Shop on February 20. Then it was on to Scott's Drum Center (Lafayette, LA), 2112 Percussion (Raleigh, NC), ATL Drum Collective (Atlanta, GA), and Clark's Music Center (Jacksonville, FL).
Shelley opened each show by demonstrating the sounds and playing techniques associated with his extensive stand-up percussion rig. He played to a variety of musical tracks, creating a concert-like performance complete with lasers, fog machines, black lights, and other special effects. He closed his portion of the show by conducting an all-age drum circle, getting audience members up and involved in the action.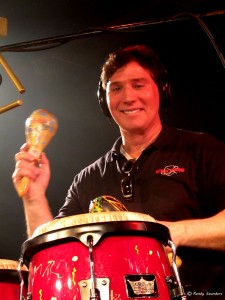 Terry Bozzio took the stage and performed some of his famous solo drum compositions—musical works expressed on the enormous setup that has become his personal instrument over the past two decades. For the finale, Shelley returned to the stage to join Bozzio for an extended improvisation set. Advertisement
"Accompanying a drummer as unique as Terry Bozzio is an honor and a challenge," says Shelley. "And getting young people excited about drums and percussion is very gratifying. I'm extremely happy that Universal Percussion has been able to partner with so many music retailers to bring our clinic to a wide audience. We had great response at every stop along the way of our spring 2014 tour, and I'm looking forward to continuing this unique experience in the future."
For more information, visit UniversalPercussion.com.