Mark Schulman, Daniel Glass, and Bruce Becker Announce "Triple Threat??? LA Drum Camp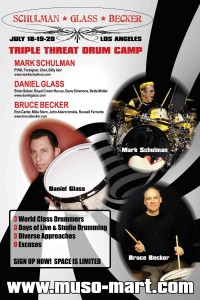 World-renowned drummers, educators, authors, and instructional DVD creators Mark Schulman (Pink/Foreigner), Daniel Glass (Brian Setzer/Bette Midler) and Bruce Becker (Mike Stern/Ron Carter) will a drum camp this July 18–20 at the Hilton Woodland Hills/Los Angeles, located at 6360 Canoga Ave., Woodland Hills, CA.
Produced by MUSO Entertainment, the Triple Threat three-day drum camp offers a limited number of students the chance to play with and learn from three of the world's most experienced, educated, and passionate drummers in an ultra-intensive, intimate classroom setting and in a full day in the recording studio. Each student plays along with the instructors on a practice drumkit. Students will also receive playing-time analysis in the Drum Channel recording studio.
As former students of the legendary Freddie Gruber, Schulman, Glass, and Becker offer up a unique program that will cover various topics, including the following.
Technique: Quarter-Note Pulse
Evolution: History of the Rhythm Section
Understanding Shuffles
Preparation: The Big Picture
Nerve Breakers: Conquering Life's Stage Fright
Drum Recording Seminar: Tuning, Technique, Charting, Miking, Processing, Interfacing, and Editing
Hand and Bass Drum Technique
History of Freddie Gruber: Approaches and Technique
Specific Jazz and Rock Technical Analysis and Execution
For over twenty-six years, Mark Schulman is a first-call drummer for world-class rock and pop artists. Having finished his third record-breaking world tour with Pink, Mark recently joined Cher for her "Dressed To Kill World Tour 2014." Mark's resume also includes Billy Idol, Foreigner, Sheryl Crow, Stevie Nicks, Velvet Revolver, Simple Minds, and Beyonce, among others. Mark was voted the third best pop drummer in the 2014 Modern Drummer Reader's Poll, and his new book, Nerve Breakers: Conquering Life's Stage Fright, was written for anyone who wants to transform performance anxiety into confident peak performance. Advertisement
Daniel Glass is one of the foremost authorities on classic American drumming. He has recorded and performed with a host of topflight artists, including Brian Setzer, Royal Crown Revue, Gene Simmons, Bette Midler, Liza Minnelli, and Mike Ness from Social Distortion, among others. Daniel is also an award-winning author, clinician, and educator. He has written five books, including Roots of Rock Drumming (with Steve Smith). His DVDs, The Century Project and TRAPS recently earned Reader's Poll awards in Modern Drummer. Daniel has performed more than 250 clinics across the world, including stints at prestigious festivals like PASIC and the Modern Drummer Festival. For more info, visit www.danielglass.com.
As an educator, Bruce Becker draws from his thirty-plus-year association with drumming guru Freddie Gruber to bring a unique approach to developing students' understanding of the natural principles of the body's interaction with the drumset. His debut educational DVD, Concepts and Philosophies, was released in 2013, and his new book, Odd Time Studies, is scheduled for release this year. Bruce has taught Mark Schulman, Daniel Glass, David Garibaldi, and Tony Arco, and he has performed master classes and workshops in music conservatories and schools in the USA, Germany, Italy, Belgium, Austria, the Netherlands, Latvia, Moscow, Argentina, Uruguay, and Australia. For more info, visit www.brucebecker.com.
To register for the Triple Threat Drum Camp, visit www.muso-mart.com.