Carlos Verdugo of Tribal Seeds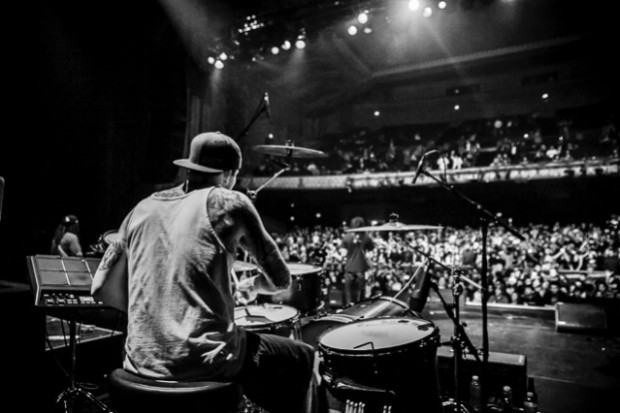 Greetings, Modern Drummer family! First of all I would like to thank you guys for taking time to read a little bit about me.
Growing up in San Diego, California, drumming and music have always been a huge part of my life. Having so many friends from different cultures, I grew up playing a wide variety of musical styles. It helped to have a good friend that played with Ike Turner, which led to jam sessions with him and other legends, such as George Clinton. I grew up playing with punk and hip-hop acts and practicing Afro-Cuban and reggae rhythms with my mentor Marco Wood.
After many years of searching for the right band, I found my match with Tribal Seeds. I have been playing with them for eight years now and wouldn't trade it for anything! It's a real dream-come-true to be able to travel around the world with some of my best friends and family. We recently wrapped up a two-month nationwide tour (Representing Spring 2014) with two great bands: Inna Vision (from Maui, Hawaii) and New Kingston (from New York).
Our latest album, Representing, came out on May 13. Being in the studio and tracking multiple takes of a song helps you get tighter and allows certain fills or breakdowns to pop up in places that are unique. So never settle for the first take unless it's the best! After working very hard over the last year on our fourth album, we are very excited to be able to share it with everyone. It's been a longtime coming, as our last full-length album came out in 2009. This album is special to me because it features some of my favorite artists, such as Don Carlos, Mykal Rose, Kyle of Slightly Stoopid, and Vaugn Benjiman of Midnite. Advertisement
This album was recorded with my signature custom kit from Vessel Drum Co. The drum builder, Preston Parsons, makes the finest quality handcrafted drums I've ever used. I play a 24×24 kick drum that is thunderous, 13″ and 16″ toms that boom, and a vented maple snare drum that cracks like no other. I'm honored to endorse these guys and fully stand by their product.
I take a lot of pride in playing with precision and extreme velocity. The hi-hat is such an important tool to my style of drumming. My toms are tuned low to blend with the kick drum (they are often mistaken for a double kick), which creates a unique sound for my fills.
Playing to a metronome keeps me in the pocket during live shows and recording. Just because you are playing to a click doesn't mean you have to be a robot; you can still fluctuate your timing and intensity to get your point across. Some of my influences are Carlton Barrett, Grizzly, Rymo, Stewart Copeland, and John Bonham. The list could go on and on. Thanks for reading! Advertisement
For more on Tribal Seeds, visit tribalseeds.net, facebook.com/tribalseeds, instagram.com/tribalseeds, twitter.com/tribalseeds, and reverbnation.com/tribalseeds.