Andy V Galeon of Spiralarm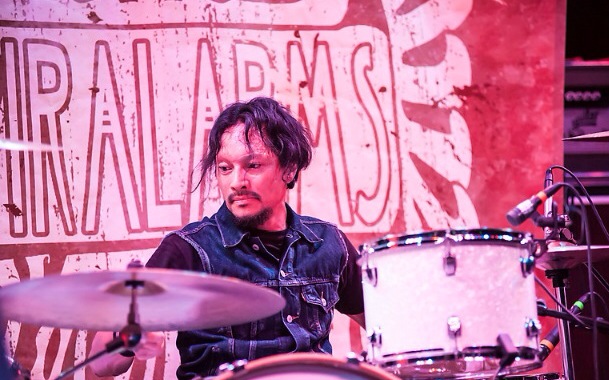 What's up, modern drummers of earth? It's Andy V Galeon here, checking in with an update on the crazy and wonderful journey this life of drumming has taken me post Death Angel.
Since I departed the DA mother ship in 2008, after a very memorable Australian tour, I've been fervently honing my chops on the stage and in the studio with many various local Bay Area bands and artists, including Yeibichai, Fos Rock, End the Suffering, Hadi Droubi, Mayhem Mary, Aqua Nett, Metal Shop SF, Counterbalance, the Nerv, and the Ghost Next Door. Most recently, I have joined Spiralarm in their quest to spread their musical jams across the cosmos.
It all started when Robb Flynn and Craig Locicero got together to put on a benefit show that was dubbed Black Sabbath Tribute: Robb Flynn and Friends. We jammed all the killer tracks at rehearsal, and all the positive juices were flowing. It was after the second day that Craig brought to my attention that Spiral was parting ways with their drummer, and I should listen to some of their Freedom record.
One thing led to another, and I found myself at Audio Voyage Studios, Spiral's HQ. Within two weeks, we played the Milk Bar in the Haight/Ashbury District (coincidentally the same night as the Von Hammett gig where DA played). Advertisement
More gigs followed and at one in particular at Loaded in Hollywood, our good friend Eric Kretz came out to hang. Eric, I believe, was the first drummer in a line of experienced skin bashers to jam with Spiral, and he invited us to record at his newly constructed studio. We immediately agreed and commenced ironing out a date. Now Spiral is gathering the new material, so we can record a couple brand-new tracks produced by Eric. I'm stoked beyond words because I've been wanting to work with Eric since we met in the late '90s (Swarm days), and I'm about to have the best drum tones I've ever had on record since the Killing Season album (thanks to Nick Raskulinecz).
It seems the stars have aligned, and again I pray to the great drum in the sky and give huge thanks and praise. And may the power of Bonham be with you, my brethren. Peace!
For more, visit www.avgdrum650.com.
Photo by Alan Snodgrass