Hand-Drumming Guinness Record Attempt Set for This Saturday April 26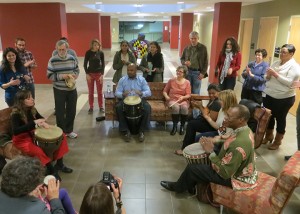 On April 26, more than 1,000 percussionists will convene on the campus of the University of Maryland to attempt to break the Guinness World Record for the largest hand-drum ensemble. Universal Percussion president Tom Shelley will emcee the event, as well as participate.
The Maryland Center for Health Equity (M-CHE), in collaboration with the Clarice Smith Performing Arts Center, is recruiting 1,400 participants. The current record of 1,331 participants playing dolu drums was set at an event in Hyderabad, Andhra Pradesh, India on May 6, 2012.
The event will take place in the 80,000-seat Byrd Stadium and will be filmed by the camera crew that covers University of Maryland football games. Additional coverage will be presented in Washington, D.C., newspapers. Advertisement
Universal Percussion president Tom Shelley to participate.
Drummers and percussionists of all ages and experience are welcome to join in this unique event.
To register, click here.