Matt Graff of Chevonne & the Fuzz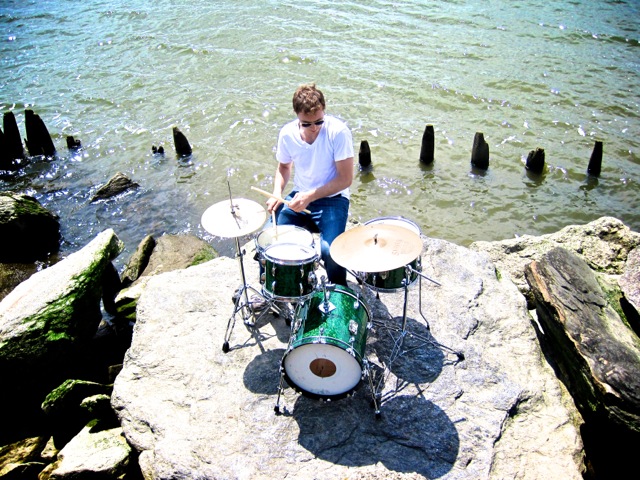 I'm excited to write my first blog post for Modern Drummer and introduce myself as the drummer of Chevonne & the Fuzz. Although I joined after the writing and recording process for our debut EP, Fire At Will, I'm proud to be able to share these tunes with the world from the stage.
It's an interesting experience, jumping into an already-established project. I've found myself in this situation a few times, and each one is a unique, challenging, and rewarding experience. In the case of Chevonne & the Fuzz, there was already a fully functioning social and musical dynamic in place. These guys have truly bonded. They're all great friends and have a seamless working relationship. Most importantly, they know how their music is supposed to sound, and know what they want from a drummer. Going into the audition, I had a pretty clear sense of what was expected of me.
Steve and Mike, the original drummer and current bass player, are brothers. They've been playing and writing together forever, and it sounds like they're one instrument. Their parts fit so congruously you would swear that every note has been scrutinized and choreographed to perfection. As I listened to the EP, and I knew I was going to have to learn each song exactly as it had been played on the recording. I know a lot of drummers who cringe at the thought of playing someone else's parts note-for-note. Maybe it's because they feel slighted creatively, or they don't want to put in the extra time it takes when learning the material. Maybe they know they can't physically play what the other drummer is doing. Me, I've felt a little bit of all those things at some point or another, but I also recognize the positive aspects of having to play what's already there. Advertisement
First of all, you don't have to worry about writing parts that fit the music; someone's already done that for you. It's also an opportunity to expand your vocabulary by playing things you wouldn't necessarily think to play. Every time I've done it, I've assimilated some new lick, groove, or technique that's had a lasting effect on my sound.
Lastly, and perhaps most importantly, it sets the rest of the band at ease. As a new member, one of your goals should be making the transition as smooth as possible. Playing exactly what the other members expect to hear keeps everyone in their comfort zone, and though it might be on a subconscious level, they will appreciate it.
I'm not saying that you have to be a robot and never take liberties, but it's important to make sure the changes you make don't detract from what is already a good sound. As I get more familiar with the material and more comfortable as a member of the Fuzz, I'm not afraid to augment certain parts to fit my aesthetic. If I do make a change though, I'm always checking with the other band members to make sure they're on board. Most of the time they approve, but I'm happy to play the original part if they prefer it. When that happens, I don't take it personally. It's all about putting the music first, and I trust that everyone shares that goal. Advertisement
So far being a member of the Fuzz has been an absolute blast. As someone who's been "the new guy" several times, I know what it's like when developing relationships with existing members doesn't happen easily. With this band though, it couldn't have been any more natural and effortless. I love playing, writing, and hanging out with everyone, and it's as if we've all known each other for years, even though the band is in its infancy.
We're rehearsing frequently to keep our live show razor sharp, and we're already writing new material for our next release. Thanks for checking in, and I hope to see you all out there on the road.
For more on Matt Graff, visit www.chevonneandthefuzz.com. To watch a video of Matt, look below: