Help Us Set a New Guinness World Record for the Largest Hand Drum Ensemble!
The Maryland Center for Health Equity
&
The Clarice Smith Performing Arts Center
present
The Health Equity Drum Circle:
Drum Beats for Health and Wellness
 This once-in-a-lifetime experience is intended to promote health equity through the beat of the drum.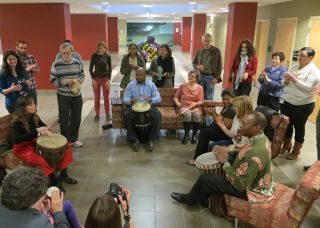 The Maryland Center for Health Equity (M-CHE), in collaboration with the Clarice Smith Performing Arts Center, is recruiting 1,400 participants to create history's largest hand-drum ensemble. The current record of 1,331 participants playing dolu drums was set at an event in Hyderabad, Andhra Pradesh, India on May 6, 2012.
Our Fearless Idea is to mobilize over 1,400 hand drummers – experts, novices, adults, children and entire families – from across the campus, the state and the region to create an awesome hand drum circle designed to raise awareness for our goal of health equity for all. 
The event is being held on Saturday, April 26, 2014 in Byrd Stadium, from 12:00 to 3:30 P.M.
Universal Percussion president, Tom Shelley, has been invited to emcee, as well as perform, at the event.
For more information and to register follow this link.