Duncan Burnett of Mime Game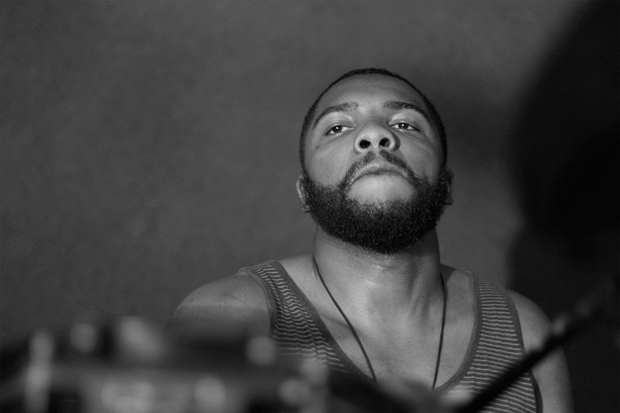 Yo, yo, yo! What's up beautiful people of Modern Drummer? My name is Duncan Burnett. I am a twenty-four-year-old artist/musician/producer from the middle of the map—Olathe, Kansas to be exact.
I got my start on drums like a lot of modern drummers; I grew up beating on pots and pans with wooden spoons. I can still hear my late granny King cheering me on while my very supportive parents lost sleep each and every day. My mother is a very spiritual and musically talented woman, so I grew up in the church and I became the official church drummer at the tender age of seven. It was the type of hand-clapping, foot-stomping, screaming-and-shouting church you can imagine and often see in movies.
As I grew older, I joined school band, learned how to read music, got really into jazz, and was destined to be the next Tony Williams. But then my Pops introduced me to Lenny Kravitz, and I found what would become my calling in rock music. Since then, my style has evolved into a mash-up of gospel/hip-hop/jazz and hard-hitting rock.
My influences/favorite drummers are my cousins Robert Mack and Lester Estelle Jr., Spanky McCurdy, Chris Dave, Wes Hart, Wayne Zimmerman, and Chris Albrecht.
One very long day in my lab working on some music, Dillon DeVoe (formerly of Josephine Collective) Facebook messaged me and said he heard I was pretty good. He then invited me to LA to record an EP, but due to work (dumb decision), I couldn't make it. When they returned, we met and jammed a little bit, and I was instantly committed. The energy was perfect for me, and I loved the guys in the band. Seven and a half months later, after a thirty-eight-day tour, an endorsement from Apple Tree Percussion, and Saluda cymbals, and releasing our debut music video for "Do You," I'm counting my blessings and thanking God for this band. Mime Game is on the rise by simply playing good, passion-filled rock music with a live show that will shake your soul. Advertisement
We recently hit up SXSW, and soon I will be unleashing some pent-up energy on our first full-length, entitled The End Of The Beginning. Be on the lookout for big things to come from Mime Game in 2014.
For more on Duncan Burnett and Mime Game, visit www.mimegame.com and www.Facebook.com/TheNameIsDuncan.