Beau Kuther of Smallpools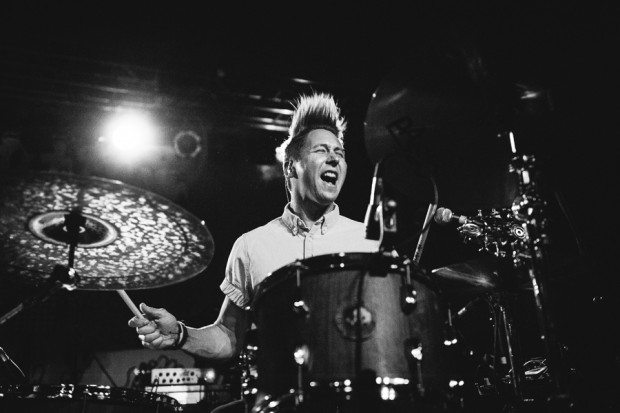 Good day, fellow Modern Drummer fanatics. Most of you don't know who I am, but if you skim your way through this brief and painless memoir of my drumming existence, you'll probably end up knowing more about me than you bargained for.
My name is Beau Kuther, and I make up one quarter of the alternative, indie-pop outfit, Smallpools, and here is the story of how Smallpools came to existence. I moved to LA from Portland, Oregon the summer of 2012, to pursue a career in action sports apparel. It was a tough decision to leave and put my other projects, Water and Bodies, Kaddisfly, on part time status, but it was time to make a life move. With an eager attitude in my new home I was sure to find some other casual musicians to keep my chops up with, right?
Lucky for me, just weeks after I moved to Los Angeles I met up with fellow Oregonian and bass extraordinaire, Joe Intile, who told me about two amazing musicians/songwriters he had met. Joe had been writing music with Sean Scanlon and Mike Kamerman, both east coast transplants. He tipped me off that they needed a drummer for this new project. The four of us rented out an hourly rehearsal spot and hashed out a few song ideas. A round of beers succeeded that inaugural rehearsal and the big question was popped, "Do you want to start a band"? Advertisement
We recorded some demos a few weeks later, which reached the ears of a friend with ties in the industry. He introduced us to a young LA production trio by the name of Captain Cuts, with whom we recorded a few snappy jams during the fall of 2012. That batch of songs caught the attention of a couple major labels and in March of 2013, we signed with RCA Records. Needless to say I had to quit my day job and buckled up for a wild year including the release of our EP, touring the US and UK, and a performance on The Jimmy Kimmel Show.
Ok, let's talk about drums! I grew up in a very musical house. My dad played drums so I got my first taste at a young age. I remember being no older than five, toddling along with my parents to church band rehearsals. I was so enamored with the rhythm of the songs they performed. My parents also instilled in me a love of all things classic rock. We listened to everything from the Police, Steely Dan, and Toto to Crosby Stills Nash and Young, Cream, and Iron Butterfly. I really got into the groove (get it?) of playing when I got my first kit at age ten. There are so many drummers that I can attest my style to—Stewart Copeland, Steve Gadd, Jeff Porcaro, Dave Grohl, Josh Freese, and Jojo Mayer, to name a few.
Big shout out to Master of Maples Custom Drums, Paiste Cymbals, and Vic Firth sticks for all the love!
For more on Smallpools, visit smallpoolsmusic.com.