Mark Leon
Hi, Modern Drummer readers. My name is Mark Leon. I'm sixty-six years old and have been a professional drummer for fifty-two years. I got bitten by the bug, so to speak, at five years old, listening to New York's Make Believe Ballroom radio program as mom was cleaning. I was bitten a second time the first time I heard live music.
Allow me to share a most cherished memory. The year was 1956—a different day and age. I was nine years old. My best friend, Michael Dern, and I would take the subway every Friday evening from Sheepshead Bay, Brooklyn, into Manhattan. We then would walk to Broadway and 52nd Street to Studio 50, now the Ed Sullivan Theatre. We would sneak in to see The Honeymooners episodes. In 1956, everything was live—no videotape. Mistakes or not, you got what was performed on the spot. Music was provided by the CBS staff orchestra, conducted by Ray Bloch.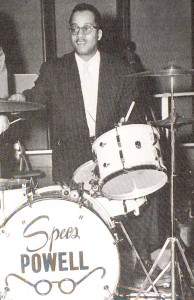 Four tiers up on a drum riser was a gentleman who moved with grace, poise, and artistry, very much like the best ballerina in the world. I came to find out his name was Gordon "Specs" Powell. He would move from timpani to traps to orchestra bells to woodblocks to chimes to Chinese temple blocks to suspended cymbal and back again, giving each his full attention and soul. We watched from the corner with mouths open wide in amazement. Being quite intuitive, Specs introduced himself and invited us to sit next to him to observe the eighteen-piece orchestra up close—quite exhilarating to say the least! To this day I can remember how sweet those Leedy white mother of pearl drums and K Zildjian cymbals sounded. The sound was emphasized all the more by the first-chair trumpet player, Charlie Shavers. Advertisement
Michael and I came back week after week through 1960, alternating between The Honeymooners on Friday nights and The Ed Sullivan Show on Sundays at 3 p.m., which featured the same orchestra. Specs was encouraging, to say the least, and urged me to take lessons, learn to read, and broaden my horizons percussion-wise. I went on to study drums with Charlie Perry and Al Miller and under scholarship studied timpani, mallets, and so on at with Al Lepak at Hartt College of Music in 1965.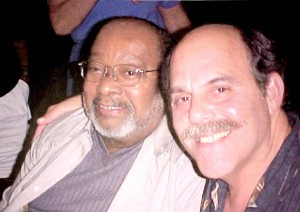 I moved to Los Angeles in 1973 to pursue film, television, recording, and jingle work. I went on to tour and record with fiddler Papa John Creach from 1974 to 1979, as well as to freelance, do school clinics, and such. My drum book, Contemporary Rhythms for the Modern Drummer, was published in 1971.
Through early encouragement by Specs Powell, I got to live my dream. As for Michael Dern, he owns a successful corporate travel company in St. Louis, Missouri.
I tracked down Mr. Powell in 1998 and thanked him. A reunion took place at his surprise 80th birthday party. Specs was an artist, a gentleman, and a human being with rare insight, compassion, and self-giving. As Bob Hope always said, "Thanks for the memories, Specs." They're in my mind and heart forever. Advertisement